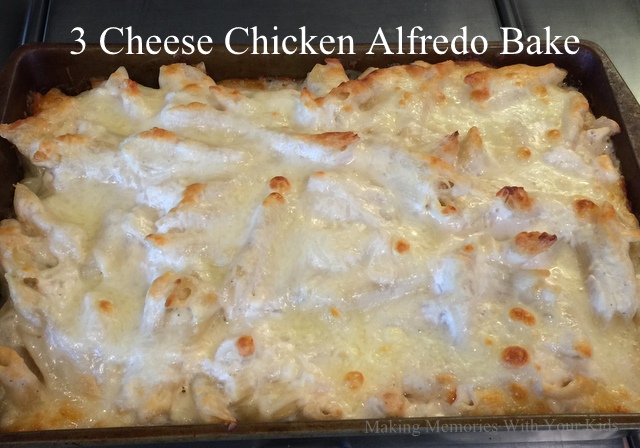 Every summer my Dad organizes a family beach trip.  It's one of my favorite weeks in the summertime.  We eat and talk and walk on the beach.  It's relaxing and wonderful and my kids and I love it.
One of the things I love about this week is planning what I'm going to bring for meals and desserts.  My Dad is always so appreciative when I cook and doesn't that just make everything better?!  So I spent the days before our trip baking and planning and cooking.  My counter was covered in desserts.  It was heaven!  And what shouts beach comfort food better than Three Cheese Chicken Alfredo Bake?  I'll answer that… nothing!
The cheesyness of the alfredo sauce pushed this dish over the top for me.  It was absoluteley delicious and I'll definitely be making this dish again, and again, and again!
I apologize for my pictures.  We were too buy having fun to take pictures.
Look at all the cheesy goodness.  (And this is before it's melted.)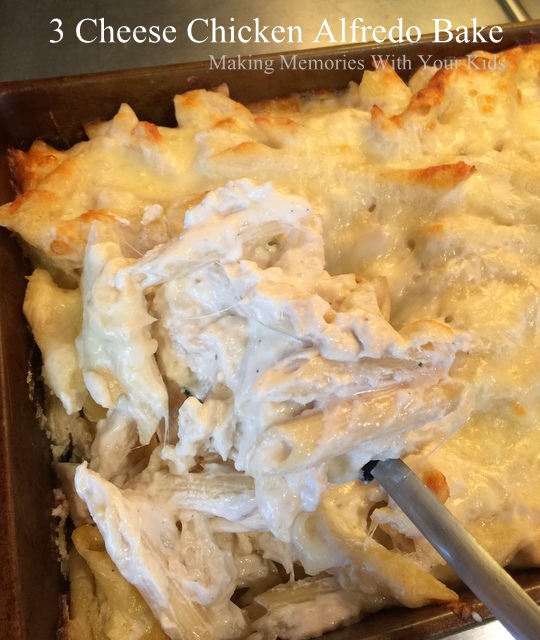 I found this recipe over at Life in the Lofthouse.
Three Cheese Chicken Alfredo Bake
Ingredients
1 (16 ounce) box Penne pasta noodles
2 (10 ounce) containers Alfredo sauce
1 cup sour cream
1 (15 ounce) container Ricotta cheese
2 cloves of garlic, minced
2 cups cooked, diced chicken
1/4 cup grated Parmesan cheese
2 teaspoons dried Parsley
1 teaspoon Italian seasoning
2 cups shredded Mozzarella cheese
Instructions
Boil Penne pasta in a large pot of water, according to package directions. Drain water, and then return pasta to pot. Add all the remaining ingredients, except for the mozzarella cheese. Stir together to combine and then pour mixture into a greased 9×13 baking dish. Sprinkle the top evenly with the mozzarella cheese.
Bake at 350 degrees for 30 minutes, or until hot and bubbly.
Enjoy!
http://makingmemorieswithyourkids.com/2016/09/three-cheese-chicken-alfredo-bake/