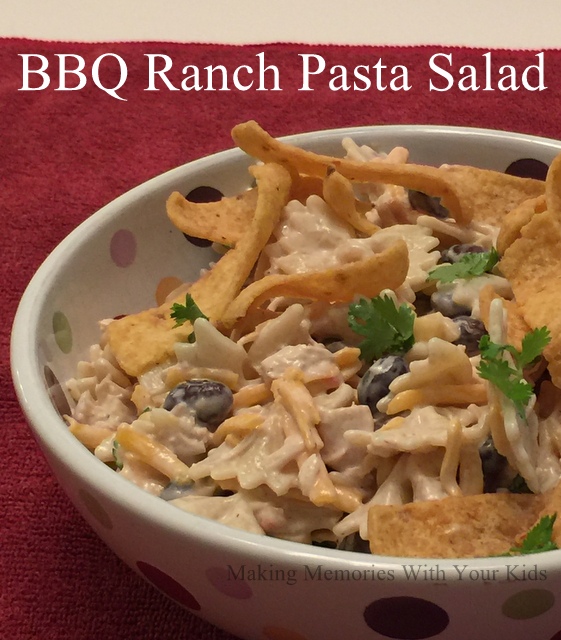 It's official, I'm on a giant pasta salad kick.  I love everything about pasta, hot or cold.  But there's something about a pasta salad that is easy and so delicious.  It's one of those things I can take for lunch and not have to worry if I'm going to have time to go find a microwave.  I can sit at my desk and eat and work.
This pasta salad was delicious.  I loved the BBQ Ranch flavor and the fresh cilantro and topped with Fritos?  Amazing.
If you can't find BBQ Ranch (Hidden Valley is the brand I used), just mix some of your favorite BBQ sauce with ranch dressing.  I might do that the next time I make this.  I love homemade ranch as opposed to the bottled dressing.  Add in some of my favorite BBQ sauce and I'd eat the entire bowl.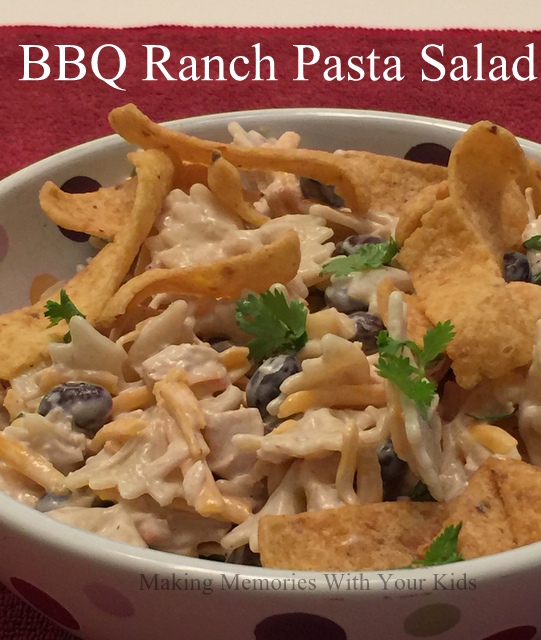 I found this recipe on Spicy Southern Kitchen.
Ingredients
1 pound pasta, cooked until al dente
1 cup Honey BBQ Dressing
1/3 cup sour cream
1 can black beans, rinsed and drained
1 cup canned corn, drained
1/2 red bell pepper, diced
1/2 small red onion, finely diced
1 1/2 cups diced cooked chicken
1 cup shredded cheddar cheese
2 tablespoons chopped fresh cilantro
1 cup Fritos corn chips
Instructions
Place cooked pasta in a large bowl.
Stir together Honey BBQ Dressing and sour cream and pour over pasta. Toss to mix.
Add all remaining ingredients, except corn chips, and stir to combine.
Refrigerate until ready to serve and sprinkle corn chips on top just before serving.
http://makingmemorieswithyourkids.com/2016/10/bbq-ranch-pasta-salad/
For more delicious salad recipes, click HERE.