As a kid I loved Halloween.  I loved absolutely everything about it.  Now, as an adult?  Not so much.  It's not the holiday, per se.  It's the craziness that has become Halloween.  I live in a neighborhood where everyone comes to trick-or-treat.  I'm serious.  Everyone!  It's crazy.  I used to try to keep up with all the kids and buy hundreds of candy bars but it just got kind of out of hand.  I could pass out about 400 pieces of candy in about 4 hours.  This year I am giving up.  I can't believe I'm even saying this, but I'm turning off my light and hunkering down inside.
That doesn't mean I don't love Halloween fun food.  Heck, I'll make that until I'm 100 years old.  So when I saw these totally adorable Spider Cookies on Pinterest I immediately bought the ingredients to make them.  They are so cute and seriously?  A Lindor truffle right on top?  Yes, please!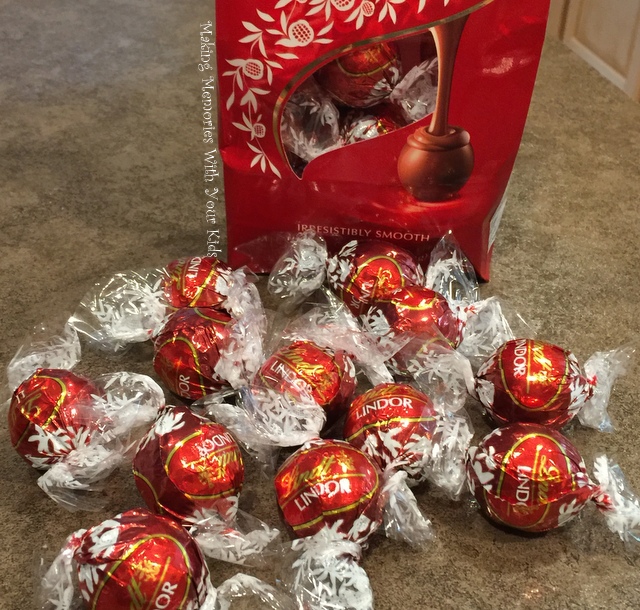 You start with a delicious peanut butter cookie.  Cook them about halfway through and then pull them out and lightly press an indent into the center using one of those funky gadgets to make mini tarts.
Cook the rest of the way and here's the hard part.  Don't put your truffles on your cookies when they are too warm.  If you do, your truffles will melt and make a little mess.
So let them cook for a bit and then place a truffle on each cookie.  Let them cool completely before you add the legs and eyes.
I just love them!  My kids are going to love them in their lunches.
Thank you to A Spicy Perspective for this fun recipe.
Chocolate Peanut Butter Spider Cookies
Ingredients
1/2 cup unsalted butter, softened
3/4 cup smooth peanut butter
1/3 cup brown sugar
1/2 cup granulated sugar
1 teaspoon vanilla extract
1 large egg
1 1/4 cup all purpose flour
3/4 teaspoon baking powder
1/4 teaspoon baking soda
1 teaspoon salt
24 round chocolate truffles
3/4 cup semisweet chocolate chips
48 candy eyes
Instructions
Preheat the oven to 350 degrees F. Line two baking sheets with parchment paper and set aside.
Place the softened butter and peanut butter in the mixer and beat until fluffy. Then add both sugar and beat again until fluffy. Scrape the bowl and beat in the vanilla and egg.
In a separate bowl mix the flour, baking powder, baking soda and salt together. Turn the mixer on low to slowly incorporate the flour mixture.
Roll the cookie dough into 24 - 1 1/2 tablespoon balls and spread 12 out on each cookie sheet. Bake for 10 minutes. Remove from the oven. Quickly use a pestle to press a cavity in the middle of each cookie. Then place back in the oven and bake another 6-10 minutes, until golden.
Meanwhile, unwrap all the chocolate truffles. Once the cookies are out of the oven, cool until almost at room temperature (but not very warm) and place a truffle in the cavity of each cookie. If the cookies are too warm, the truffle will melt. If the cookies are cool, the truffle won't stick. (You can also wait until the cookies are completely cool, then glue the truffles in with chocolate to be safe.)
Melt the chocolate chips in the microwave in 30 second increments, stirring in between, until melted and smooth. Scoop the melted chocolate in a zip bag. Close the bag and snip off a small portion of one corner to create a hole. Pipe 8 legs on each cookie, starting from the truffle body down.
Then use the remaining melted chocolate to glue 2 eyes onto each truffle spider. Cool until the chocolate is firm and serve.
Enjoy!
http://makingmemorieswithyourkids.com/2016/10/chocolate-peanut-butter-spider-cookies/
Enjoy!