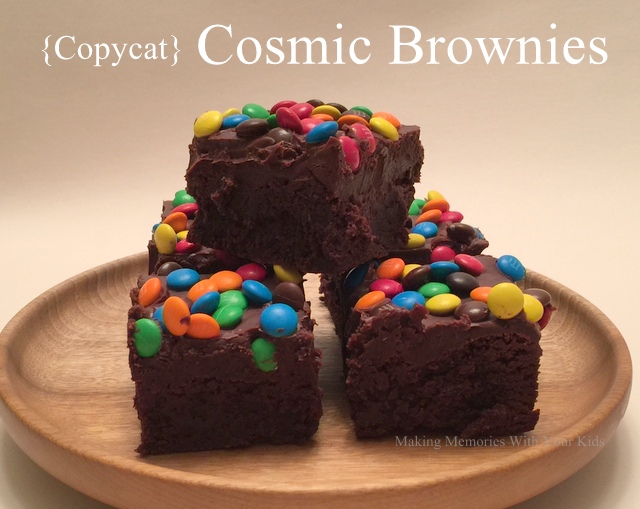 With how much baking we do in my house it's ironic that my son's favorite dessert of all time is Cosmic Brownies.  You know.  The store bought ones.  What the heck?!?!  I can't really blame him, though.  I remember as a kid growing up thinking the best "treat" was a store bought cake.  My Mom was constantly making delicious desserts so it truly was a treat to get something store bought.  Now I just shake my head because there's not a whole lot of store bought bakery items that I would want to eat.  Give me homemade any day.
So I can't fault my son (I suppose.)  But I can help out by making Copycat Cosmic Brownies.  Right?!  The best of both worlds.
These brownies are chocolate overload.  My co-workers loved them.
The brownie is a rich, chocolatey brownie layer.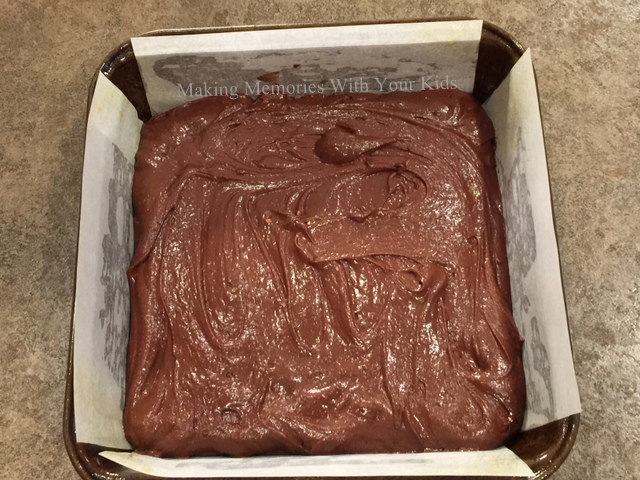 Then you add a rich chocolate ganache and sprinkle with mini M&Ms.
Delicious!
The next time I make this I'm going to use a bigger pan.  I think a 9×9 pan makes them too thick.  Don't get me wrong.  They're delicious.  But if you want a true Cosmic Brownie, they need to be thinner.  And the ganache frosting recipe made a lot.  I didn't end up using it all and look how much is on there.  I think if the brownies were made in a larger pan, it would have been perfect.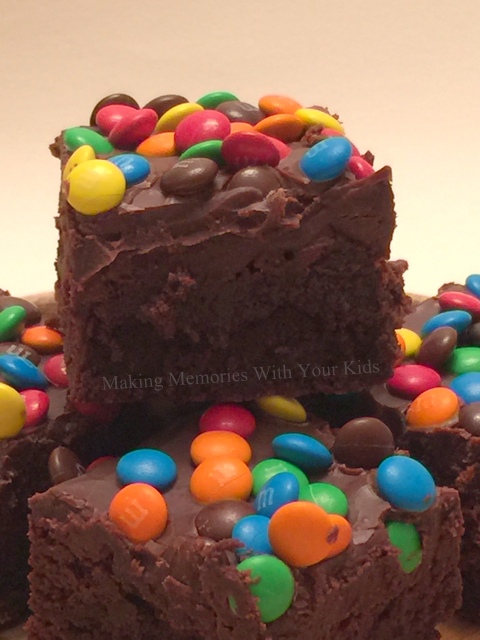 Thank you to Baking Beauty for this delicious recipe.
Ingredients
For the Brownies

3/4 Cup Unsalted Butter (1 1/2 Sticks),
2 Eggs
1 Cup Granulated Sugar
2/3 Cup Light Brown Sugar, Tightly Packed
2 Tablespoons Milk
2 teaspoons Vanilla Extract
3/4 cup Un-Sweetened Natural Cocoa Powder
3/4 cup all-purpose flour

For the Frosting

1/2 cup heavy cream
1 1/2 cups semi-sweet chocolate chips
1 cup mini M&Ms
Instructions
Preheat oven to 350 degrees F.
Line a 9x9 inch pan with foil or parchment. Spray with non stick spray.
In a large bowl, melt butter in the microwave for 1-2 minutes.
Whisk in sugars, eggs, milk, and vanilla. Then whisk in cocoa powder until smooth.
Add flour gradually, until combined.
Spread batter in prepared pan. Bake for 25-30 minutes or until a toothpick inserted in the center comes out clean. Cool completely.
Heat heavy cream in a medium sauce pan. Add chocolate chips. Stir occasionally until smooth.
Pour ganache over brownies. Smooth with an offset spatula.
Sprinkle with M&Ms. Refrigerate until the ganache has set.
http://makingmemorieswithyourkids.com/2016/10/copycat-cosmic-brownies/