Nothing says Fall like pumpkin.  So how about White Chocolate Pumpkin Oatmeal Cookies?  That screams Fall, right?
There's an extra Monday this month so the Secret Recipe Club decided to put on a Fall secret reveal day – all things Fall.  My assigned blog was Savory Moments, written by Amy.  Amy's interest in food sparked in 2004 when she traveled to Thailand.  How cool is that?!?!  She started blogging as a way to document her recipes and share them with her family and friends. She also wanted to document her growth and progress over time to better cooking and healthier eating.
Amy has a ton of amazing recipes on her blog.  When I thought of Fall I immediately thought of pumpkin.  She has so many pumpkin recipes to choose from!  Holy smokes.  The choices were endless!  I was torn between her Pumpkin Streusel Muffins, her Pumpkin Pie French Toast, her Pumpkin Spice Loaf Cake or her White Chocolate Pumpkin Oatmeal Cookies.  So hard to choose!  But I wanted to make something I could take to work so cookies won.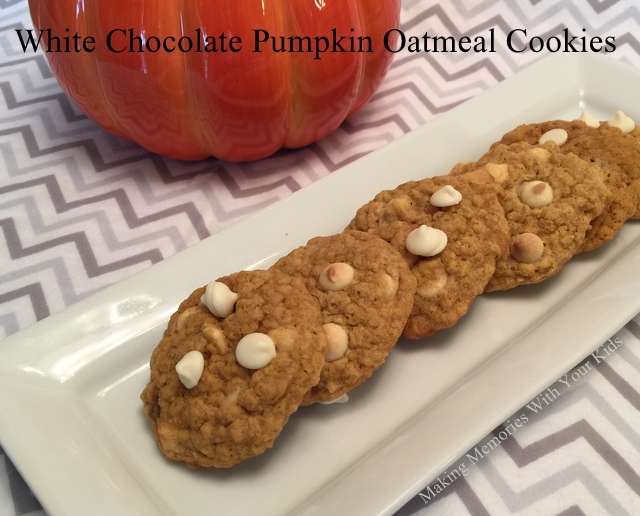 My entire house smelled amazing when these were baking.  The pumpkin and all the spices just filled the air with deliciousness.  Definitely a keeper recipe.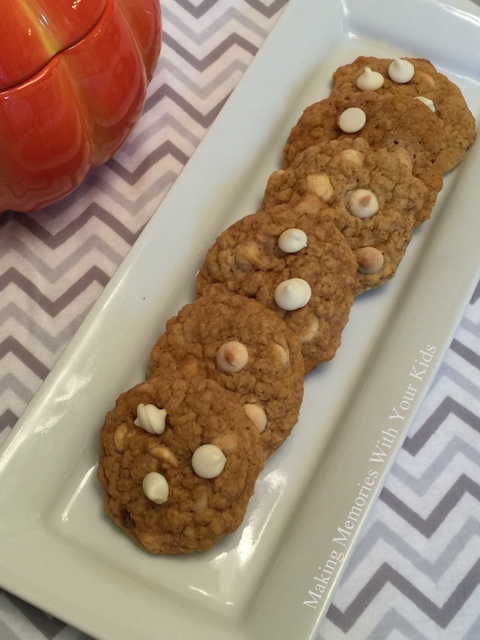 White Chocolate Pumpkin Oatmeal Cookies
Ingredients
2 sticks (1 cup) unsalted butter, softened
1 cup sugar
1 cup light brown sugar
1 cup pumpkin puree
1 large egg yolk
1/2 teaspoon pure vanilla extract
1 1/2 cups all-purpose flour
1/2 teaspoon baking powder
1/2 teaspoon salt
1 1/2 teaspoons ground cinnamon
1/2 teaspoon ground ginger
1/2 teaspoon ground allspice
1/4 teaspoon ground nutmeg
1/4 teaspoon ground cloves
2 1/2 cups quick oats
1 cup white chocolate chips, plus more for garnish, if desired
Instructions
In the bowl of a stand mixer with paddle attachment or in large bowl with an electric hand mixer, beat the butter, sugar, and brown sugar until light and fluffy. Beat in the pumpkin, egg yolk, and vanilla until combined.
In a separate bowl, whisk together the flour through cloves. Slowly add the mixture to the wet ingredients, mixing until combined. Stir in the oats and 1 cup of white chocolate chips until combined.
Preheat the oven to 350 degrees.
Line two baking sheets with parchment paper. Using a tablespoon scoop, drop the dough onto the baking sheets, placing each scoop one inch apart. Slightly flatten each with your fingers. Bake for about 10-13 minutes, until the edges and bottom are just golden. Remove to a cooling rack. Press in a couple extra white chocolate chips while the cookies are still hot, if desired.
Let cool completely and store in an airtight container.
http://makingmemorieswithyourkids.com/2016/10/white-chocolate-pumpkin-oatmeal-cookies-secret-recipe-club/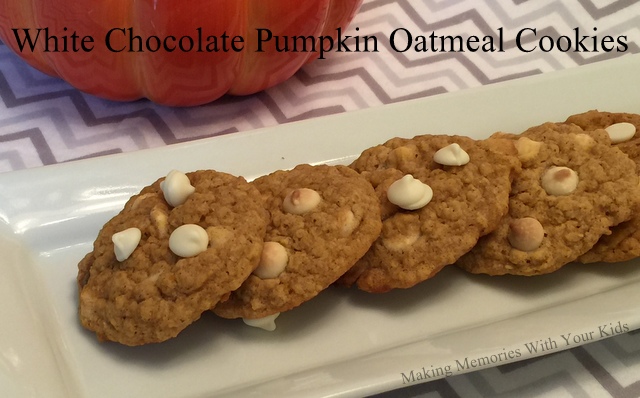 Enjoy!