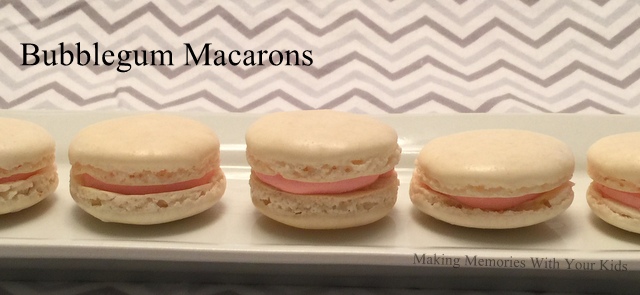 My daughter has been asking to make Macarons for months.  They are her absolute favorite cookie ever.  Strange, right?  She's eleven!  But anywhere we go that has them, the first thing out of her mouth is, "Mom, look!  Macarons!  We need to buy some."
It's not that I haven't wanted to make them.  They just intimidate the heck out of me.  They are so "fancy" looking and any recipe where you have to weigh the ingredients to make sure the are perfectly measured?  Yikes.  But I gave in and we went to work.
My daughter picked out the flavor.  She wanted to make Root Beer Float Macarons.  That sounded pretty good to me.  Sadly, we overwhipped the egg whites after adding our rood beer flavoring and had to start over.  We used all of the root beer flavoring so we had to make her second flavor choice – bubble gum.  (I wasn't nearly as thrilled over this flavor choice.)  But, she was the captain of this macaron ship so we went for it.  We found the recipe here for Root Beer Float Macarons and substituted the bubble gum flavoring for the root beer.
They weren't nearly as difficult to make as I had first thought but they were a tad time consuming.  Measuring out the ingredients, sifting, waiting.  But it was so worth it.  My daughter was so happy with how they turned out.
Measure all of the ingredients and set aside.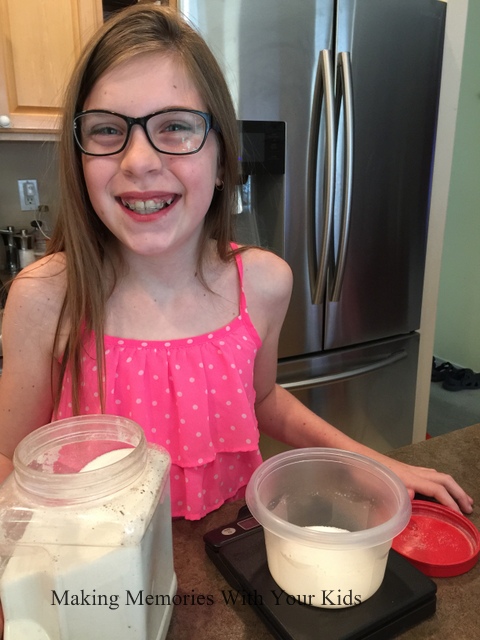 Sift the almond flour and powdered sugar together.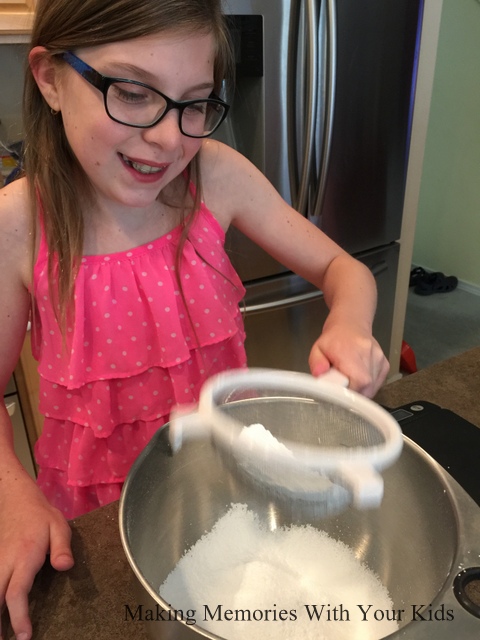 Whip the egg whites and sugar until stiff peaks form.  Do not overmix or else it'll turn back into liquid form.  (I know this because this is exactly what we did on the first batch.)
The hardest part for me was making them the same size.  Having a Macaron mat would definitely help.  My daughter decided she would eat all the wonky sizes so I guess it wasn't a problem (according to her.)
Make sure you tap the pan on the counter to get out any air bubbles and then let your pans sit on the counter for about 30 minutes.  This step is important because it puts a think crust on your cookies so that when they bake, a "foot" will appear.
I'm pretty sure my daughter ate as much frosting as she piped onto the cookies.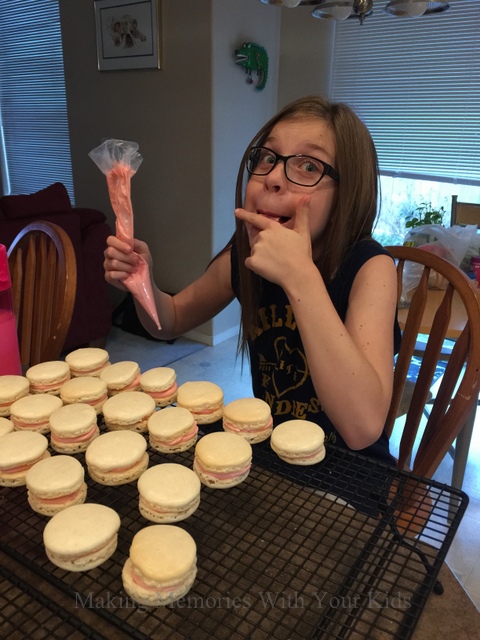 They got the thumbs up from my daughter.  She loves, loves, loves them!  She's already planning the next batch we make.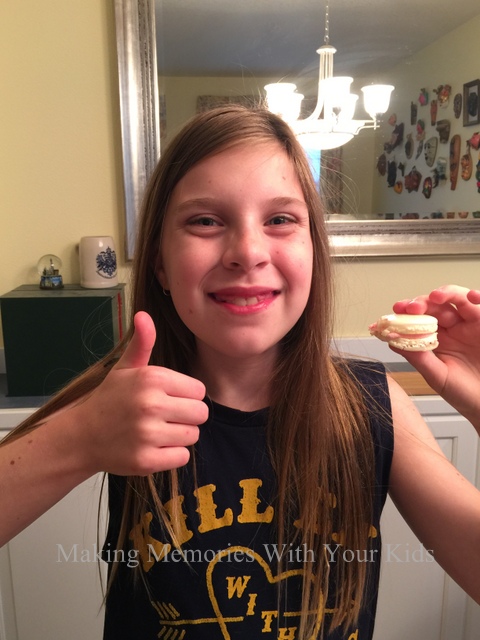 We were so pleased with how they turned out!  They aren't perfect, but they are delicious.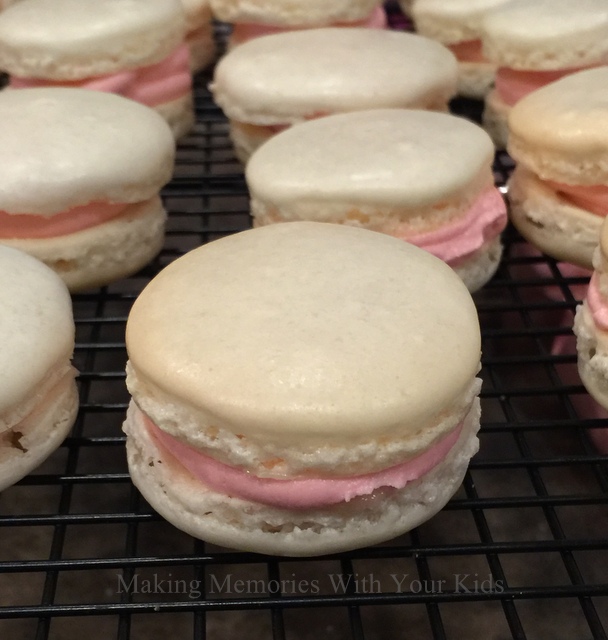 We're already thinking about all the other flavors of Macarons we're going to make.
Ingredients
For the Macarons

4 oz. almond flour
2 cups powdered sugar
5 oz. egg whites
2 1/2 oz. sugar
1 tsp. bubble gum oil (I use LorAnn)
1/2 tsp. salt

For the Filling

1/2 cup butter (room temp.)
2 cups powdered sugar
1/2 tsp. bubble gum oil
1 tsp, vanilla extract
1-2 tsp. milk
Pink gel coloring (Optional)
Instructions
Measure out all of your macaron ingredients first. This really makes it so much easier.
In the bowl of an electric mixer, pour in egg whites, salt, and sugar. Beat on med-high until stiff peaks form. Very gently fold in the flavoring. Do not overmix!
While your meringue is beating, sift your almond flour and powdered sugar into a bowl. Once all is sifted you should have some small bits of almond flour that were too large to pass through. If there is a tsp. or less, you just leave them out, if there is more you will want to send them through a food processor to grind them up before pouring into the batter.
Very gently, fold the egg whites into the flour mixture. Don't overmix!
Using a small round tip and piping bag, pipe small 1-1.5 inch circles onto either a macaron mat or parchment paper. Either way you need to remember you batter will spread a bit so you don't want to pipe all the way to the sides or the circle.
Gently tap your pans on the counter to get out any air bubbles.
Let sit for about 30 minutes. This step is important if you want your Macarons to have "feet" on them (which they must.)
Preheat oven to 275 degrees.
Bake for approx- 13 minutes.
Let cool completely before trying to remove from the pan.

To make the filling

Beat butter in a stand mixer until smooth. Add powdered sugar, flavoring and vanilla. Add small amounts of milk until you have the consistency you need.
Gently pipe filling on the underside of one Macaron. Find a like sized Macaron and make a sandwich. Make sure you don't push too hard on the cookies, they will break.
Macarons are best eaten right away. Store in an airtight container.
http://makingmemorieswithyourkids.com/2016/11/bubblegum-macarons/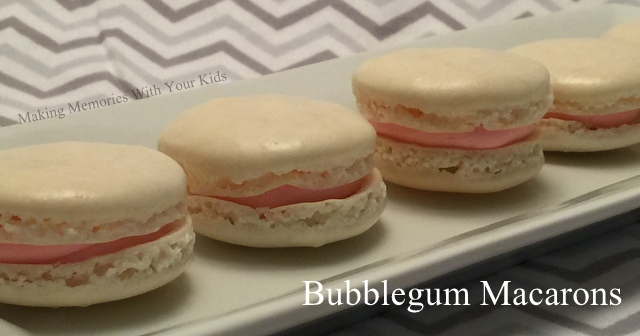 Are you ready for more cookies?  I'm participating in the Fill the Cookie Jar linky party.  A group of great bloggers get together every month and make cookies (um, hello?!  Yes, please.)