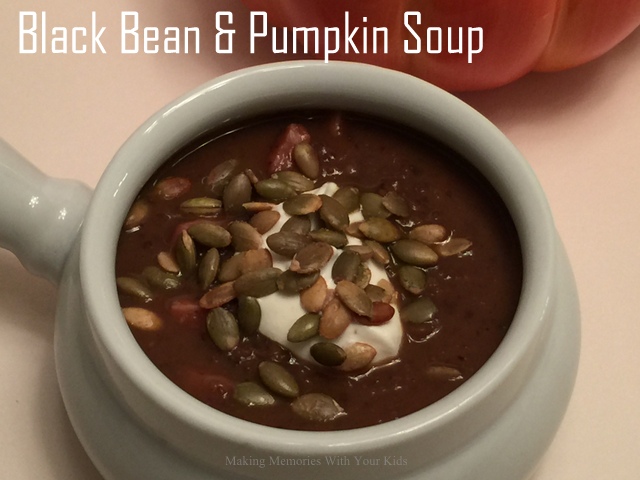 When you think of soup does the word pumpkin ever come to mind?  For me?  No way.  I would never have thought to put pumpkin in soup.  I guess it was a good thing I didn't know what was in it when my Mom had me try this soup years ago.  I loved it.  I made it all the time.  It was delicious.  Who knew?
Now fast forward 20 years and I remembered this delicious soup when I was in the grocery store.  I dug out the recipe and am I glad I did!  I forgot how delicious it is.
I added ham to the recipe but you don't have to.
Top with sour cream and roasted pumpkin seeds.  The crunchiness from the seeds is delicious!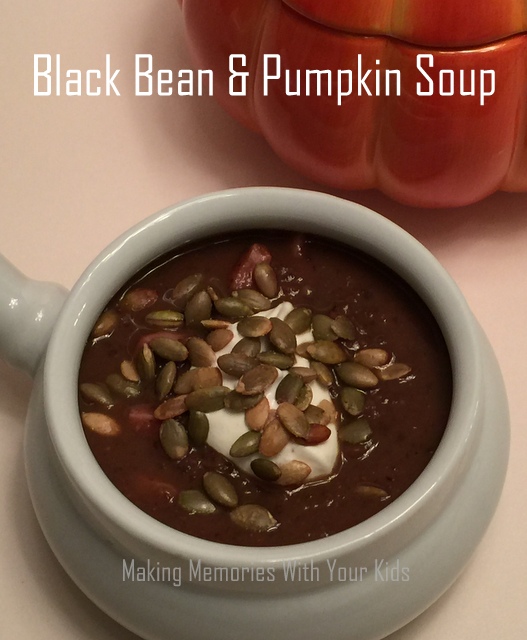 Pumpkin and Black Bean Soup
Ingredients
2 Tbsp. olive oil
1 1/2 cups chopped onion
4 garlic cloves, minced
1 Tbsp. ground cumin
1 tsp. chili powder
1/2 tsp. freshly ground black pepper
3 cans (15 1/2 oz.) black beans, rinsed and drained (about 4 1/2 cups)
1 cup drained canned tomatoes, chopped
4 cups beef broth
1 can (16 oz.) pumpkin puree (about 1 1/2 cups)
1/2 cup dry Sherry (or other dry white wine)
1 1/2 cups cooked ham cut into cubes

For the Garnish

sour cream
roasted pumpkin seeds
Instructions
In a 6-quart heavy kettle cook onion, garlic, cumin, chili powder, and pepper in oil over moderate heat, stirring, until onion is softened and beginning to brown. Stir in black beans, tomatoes, broth, pumpkin, and Sherry until combined and simmer, uncovered, stirring occasionally, 25 minutes, or until thick enough to coat the back of a spoon.
If you'd like a more chili-like consistency, serve as is. To puree, use an immersion blender to either partly or completely puree the hot soup.
Add in the ham and heat through.
Serve soup garnished with sour cream and toasted pumpkin seeds.
http://makingmemorieswithyourkids.com/2016/11/pumpkin-and-black-bean-soup/