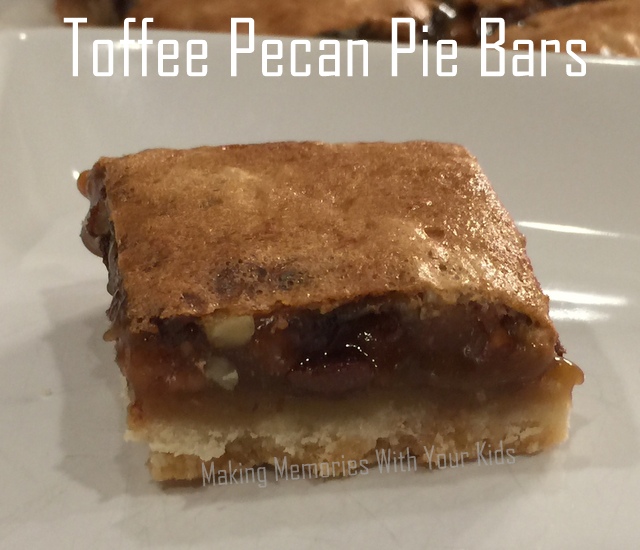 Pecan Pie in bar form?  Yes, please!
One of my absolute favorite Christmas cookies are Pecan Tassies.  My Grandmother used to make them and then my Mom and now me.  They bring back great Christmas memories of driving to my Grandparent's house on Christmas Eve, eating Swiss Cheese Fondue and all the other amazing foods my Grandmother used to make.
I've never made a Pecan Pie.  I've never really been a nut person and there seems to be so many of them in this pie.  But then I saw the bar form of this pie and I figured I could tweak it just a little and they would be delicious.  I was willing to give it a try.
The bottom layer is a flaky cookie type crust and the top layer?  Oh man!  The toffee chips with pecans and a lightly sprinkling of chocolate chips on top make this a definite heck yeah!
I didn't listen to the direction on the recipe (argh.)  The edges were getting so brown and the inside was still giggly, but I was afraid I was going to burn it.  I took it out a little too early and it was pretty gooey in the middle.  Don't get me wrong, it was awesomely delicious, but gooey.  (So maybe that's not a bad thing???)
Don't they look wonderful?
If you want more of a Pecan Pie and less of the toffee, add 2 cups of pecans instead of just 1/2.  You can also use pecan halves which would look pretty (but I'd rather not have half of a pecan.)
Thank you to The Girl Who Ate Everything for this recipe.
Ingredients
For the Crust

2 cups all-purpose flour
1/3 cup white sugar
1/4 teaspoon salt
2/3 cup unsalted butter, cold

For the Filling

3 eggs
1 cup light corn syrup
1/2 cup white sugar
1/2 cup brown sugar
2 tablespoons butter, melted
1 teaspoon vanilla extract
1/2 cups chopped pecans
1 bag Toffee Bits
Chocolate chips (to sprinkle on top)
Instructions
Preheat oven to 350 degrees. Line a 9X13 baking dish with parchment paper and spray with cooking spray.
In a large bowl, stir together the flour, 1/3 cup sugar, and salt. Cut in 2/3 cup butter until mixture resembles coarse crumbs. You can use a pastry blender or just two knives. Sprinkle the mixture evenly over the prepared pan, and press in firmly.
Bake for 20 minutes in the preheated oven.
While the crust is baking, prepare the filling. In a large bowl mix together the eggs, corn syrup, 1/2 cup white sugar, 1/2 cup brown sugar, 2 tablespoons margarine, and vanilla until smooth. Stir in the chopped pecans and toffee bits. Spread the filling evenly over the crust as soon as it comes out of the oven. Sprinkle with chocolate chips (if desired.)
Bake for 25-30 minutes in the preheated oven, or until set. I usually like things on the rare side and a little gooey but these you want cooked all the way through so make sure the middle is set. If the top starts getting to browned cover with aluminum foil.
Allow to cool completely on a wire rack before slicing into bars with a sharp knife.
http://makingmemorieswithyourkids.com/2016/11/toffee-pecan-pie-bars/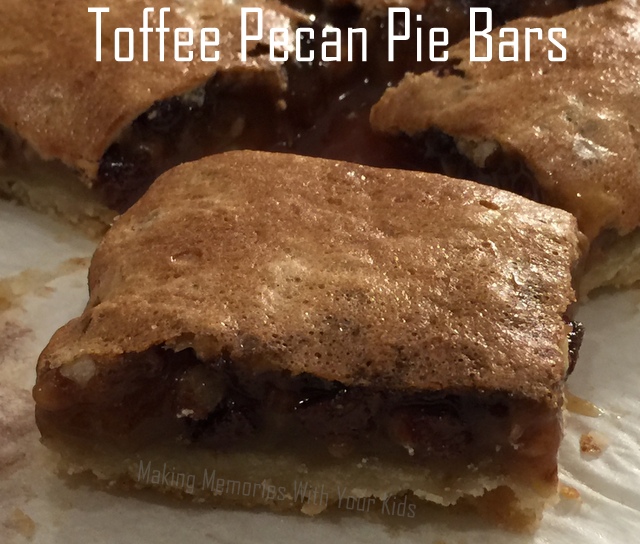 These were a huge hit with everyone!  Definitely a recipe I will make again!
ON THE FIRST THURSDAY OF EACH MONTH THE #FILLTHECOOKIEJAR GROUP SHARE OUR COOKIE CREATIONS. IF YOU ENJOY BAKING AND WOULD LIKE TO BAKE WITH THE GROUP EACH MONTH CONTACT CYNTHIA AT FEEDING BIG.