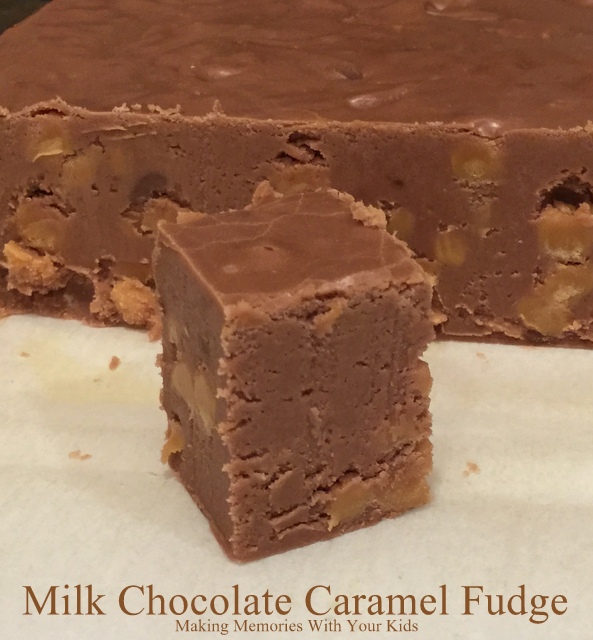 This is, hands down, the best fudge you will ever eat, and believe me, I've eaten a lot of fudge.  I love it!  But again, I love it if it's delicious.  I don't want it if it's mediocre.  You know what I mean.  When it's waxy or dry or chewy.  Fudge isn't supposed to be chewy.  It's supposed to be creamy and melt in your mouth.   That's what this recipe is – melt in your mouth!
I'm not sure where this recipe came from.  I think my brother gave it to me about 30 years ago and I have been making it every Christmas since.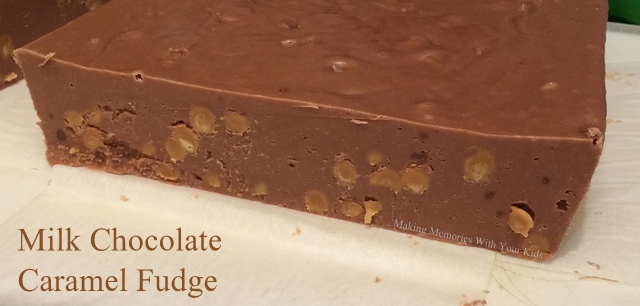 I typically make this fudge plain, just milk chocolate.  But I had a bag of Caramel Bits in the cupboard and I thought, why not?  So glad I did because WOW.  It is delicious!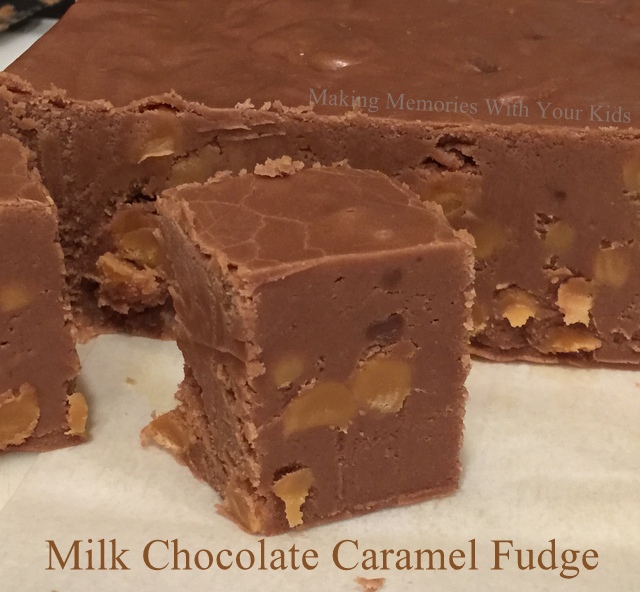 Milk Chocolate Caramel Fudge
Ingredients
4 cups sugar
1 can (14 oz.) evaporated milk
1 cup butter
1 bag milk chocolate chips (about 2 cups)
1 pint marshmallow creme
1 tsp. vanilla
Instructions
Butter sides of a heavy, large saucepan.
Place the sugar, butter and evaporated milk in the pan and heat over medium high heat, stirring constantly.
Turn heat up to high and boil (don't forget to stir) until it reaches 236 degrees on a candy thermometer.
Remove from the burner and add the vanilla, marshmallow creme and chocolate chips and stir vigorously until combined and chips are melted.
Pour into a greased 9x9 pan and let sit to harden.
Cut into squares when completely cooled and try not to eat the whole pan.
Enjoy!
http://makingmemorieswithyourkids.com/2016/12/milk-chocolate-caramel-fudge/
Enjoy!  (Because how can you not enjoy fudge?!)
You can see all of our other fudge recipes HERE.