A "spiced" up version of Mexican Wedding Cake Cookies that'll knock your socks off.  They're that good!
Do you call them Mexican Wedding Cake Cookies or Russian Tea Cakes or Snowballs?  I've seen them all over the internet and they all have different names.  But the recipe is the same and they are delicious!  One of my favorites for the holidays.  We've made a couple of versions of the traditional Russian Tea Cakes: Double Chocolate Snowball Cookies and Chocolate Peppermint Snowball Cookies.  Now add Pumpkin Spice Snowballs to the list and you have a winning combination of holiday cookies.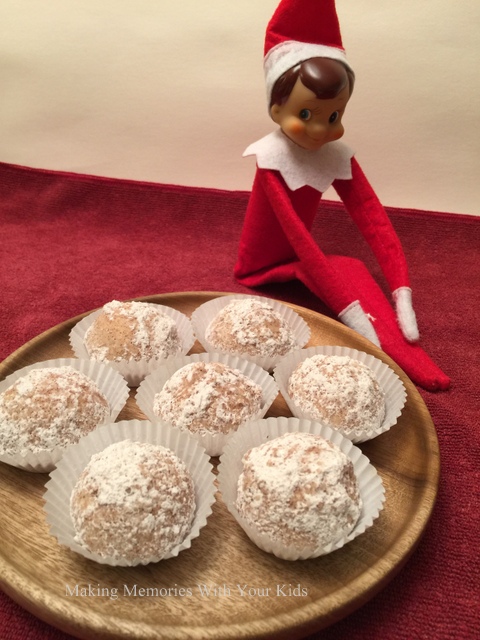 Make sure you roll your cookies twice in powdered sugar.  Once while they are still warm from the oven and then again after they've cooled.  Seriously.  It makes a huge difference and tastes that much better.
I could eat them all, they're so good!
Thank you to Crazy For Crust for this recipe.
Ingredients
1 cup unsalted butter, softened
1 1/2 cups powdered sugar, divided
1 teaspoon vanilla extract
2 1/4 cups all purpose flour
1 cup chopped pecans or walnuts
1/2 teaspoon salt
2 teaspoons cinnamon, divided
1/2 teaspoon nutmeg
1/4 teaspoon ginger
1/4 teaspoon allspice
Instructions
Preaheat oven to 375°. Line two cookie sheets with parchment paper.
Mix butter, 1/2 cup powdered sugar, and vanilla with an electric mixer until fluffy. Add flour, salt, 1 teaspoon cinnamon, ginger, and allspice and mix until the dough comes together. Stir in the nuts. If dough is too soft, chill it until you can work it easily with your hands.
Scoop 1 tablespoon balls of dough and place on prepared cookie sheet.
Bake cookies for 10-12 minutes until bottoms are just slightly brown. Remove from oven and cool for just a few minutes, until you can handle them.
Fill a small bowl with the remaining 1 cup powdered sugar and 1 teaspoon cinnamon and roll each cookie in the sugar until coated. Place on a rack to cool.
Re-roll in the powdered sugar mixture.
Store in an airtight container for up to 4 days or freeze for up to one month. (If you freeze them you'll need to re-roll them in powdered sugar after defrosting.)
http://makingmemorieswithyourkids.com/2016/12/pumpkin-spice-snowballs/
Enjoy!