When you think of Valentine's day, doesn't it just scream Red Velvet???  These Red Velvet Cream Cheese Thumbprint Cookies are a new favorite in our house!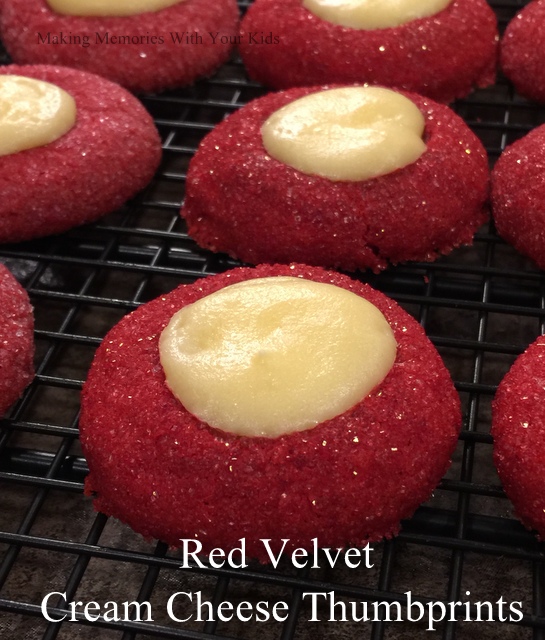 When my kids and I were raising money to go to Peru I made cookies and sold them at work to my co-workers.  It was kind of a win-win thing.  I got to bake (which I love) and try new recipes to blog and I sold them to go into our Peru Fund.  Oh yeah, and my co-workers got to eat delicious desserts for cheap.  Now we're saving money to travel to Costa Rica so I've started taking treats into work again.  And aren't these perfect for Valentine's Day?
Not only are these red and festive but they are absolutely delicious.  How could you go wrong with red velvet and cream cheese?  Not possible.
You can roll the dough in a course sanding sugar or granulated sugar.  I had sanding sugar but it wasn't as course as I would have liked.  I also ran out so I used red sanding sugar for the last pan.  Either way?  Deliciously awesome!
We used this super cool little spoon that we got in Peru to make a "thumbprint" in the cookie.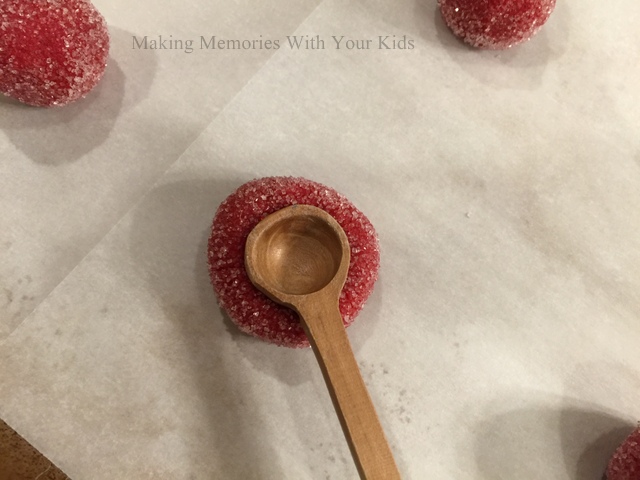 Don't they look delicious?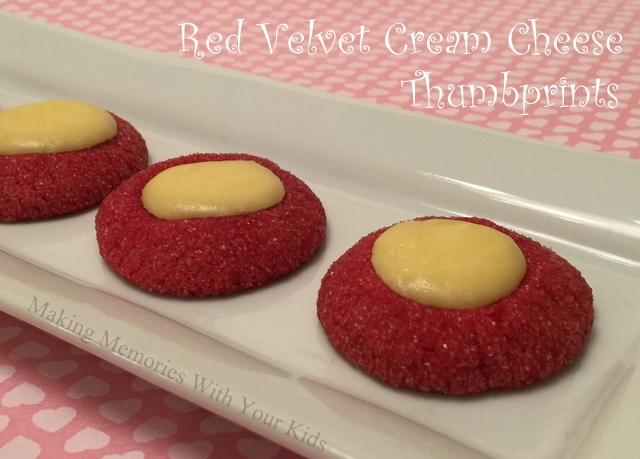 Thanks to Ashton over on Something Swanky for this delicious recipe.
Red Velvet Cream Cheese Thumbprint Cookies
Ingredients
For the Cookies

1 cup butter, softened
1/2 cup brown sugar
1 egg yolk
1 tsp vanilla extract
2 cups all-purpose flour
4 tsp red food coloring
2 tsp cocoa powder
1/2 cup granulated sugar or sanding sugar

For the Filling

4 ounces cream cheese, softened
1 egg yolk
1/4 cup sugar
1/8 tsp salt
1/4 tsp vanilla
Instructions
Preheat oven to 300ºF. Prepare a baking sheet by lining it with parchment paper or a silicone baking mat.
Beat together the butter, brown sugar, egg yolk, and vanilla until light and fluffy. Mix in the flour, food coloring, and cocoa powder until soft dough forms.
Scoop out the dough by heaping tablespoons and roll them in the sugar* before placing on the prepared baking sheet (about 2 inches apart). Use the back of a round teaspoon to make a small indentation in the cookie dough.
Bake for 10 minutes.
Meanwhile, make the filling: using an electric mixer or small food processor, beat together the cream cheese, egg yolk, sugar, salt, and vanilla until smooth.
After the first 10 minutes of baking, use the back of a round teaspoon to deepen the indentation in the cookies. Spoon a teaspoon of the filling into each indentation. Bake for an additional 12 minutes, until filling is set.
Let cool completely before serving. Store covered and chilled.
http://makingmemorieswithyourkids.com/2017/02/red-velvet-cream-cheese-thumbprint-cookies/