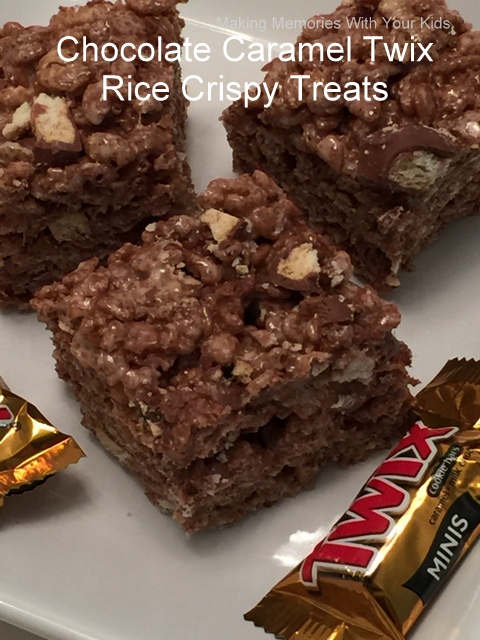 Who doesn't love a good Rice Crispy Treat?  And when I say good, I mean homemade, not store bought.  The store bought Rice Crispy Treats taste so artificial to me.  I know what you're thinking.  Artificial?  Yes, artificial, weird, waxy.  But homemade?  Pure deliciousness!
What could possibly make a Rice Crispy Treat taste better?  Well, chocolate and cut up Twix bars of course.  Just look at how delicious all those Twix candy bars look.
These are so easy to make, even little helpers can do most of the work.  But they taste wonderful!
I found this delicious recipe on Chocolate Moosey.
Chocolate Caramel Twix Rice Crispy Treats
Ingredients
3 tablespoons butter
10 ounces (roughly 4 cups) mini marshmallows
1/2 cup caramel sauce
6 cups cocoa rice crispy cereal
12 fun-sized Twix bars, chopped into pieces (roughly 1 1/4 cup)
Instructions
Line a 9x9 pan with parchment paper.
In a large pot, melt the butter. Add the marshmallows and stir with a wooden spoon until completely melted. Stir in the caramel sauce until smooth then add the cereal and Twix bars. Mix everything together until everything is coated.
Very carefully, pat the mixture into the pan.
Cool completely before cutting into squares.
Store in an airtight container for up to one week.
http://makingmemorieswithyourkids.com/2017/07/chocolate-caramel-twix-rice-crispy-treats/