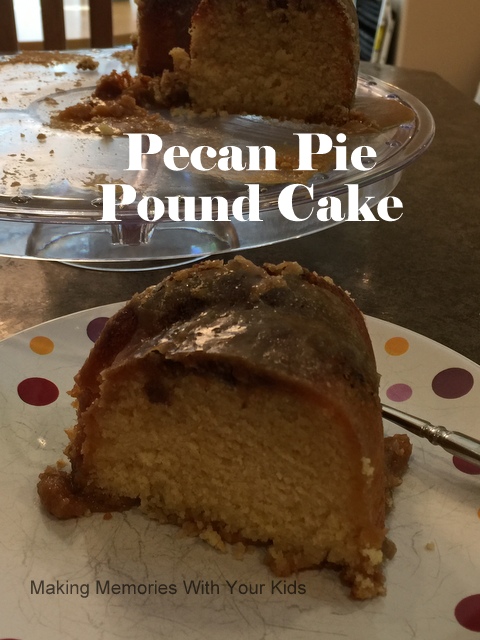 Any recipe with the words pound and cake in it and I'm in.  We love pound cake.  I think my favorite recipe is still Grandmother Paul's Sour Cream Pound Cake.  It's a family favorite and I make it often, but I'm constantly looking for a new pound cake recipe.  Can you ever have too many pound cake recipes?
Then I saw this recipe for Pecan Pie Pound Cake.  Ummm….. did I read that right?  Pecan Pie Pound Cake???  Heck ya'!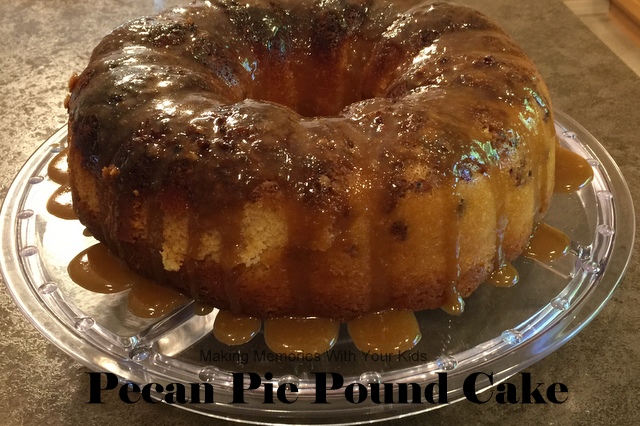 It was delicious.  The buttery cake topped with pecans and a gooey icing were a perfect combination.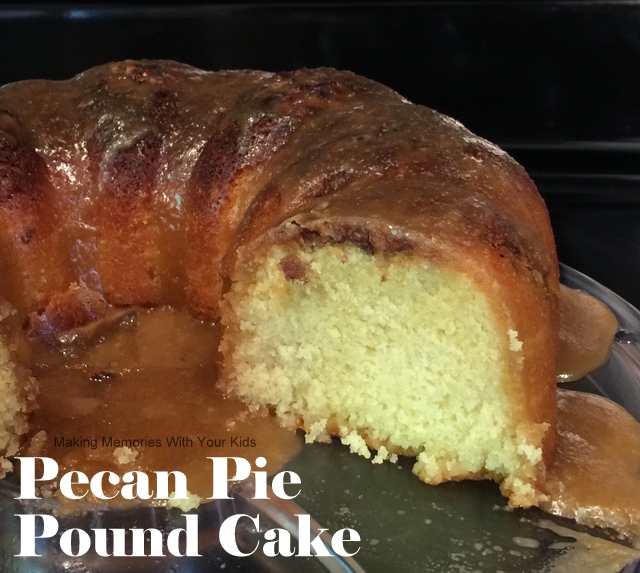 Thank you to Bake or Break for this wonderful recipe.
Ingredients
For the Cake!

1 cup finely chopped pecans
2 cups all-purpose flour
1 teaspoon baking powder
1/2 teaspoon salt
3/4 cup light or dark corn syrup
1/2 cup buttermilk
1 cup unsalted butter, softened
1 3/4 cups granulated sugar
4 large eggs
1 tablespoon vanilla extract

For the Icing!

1/2 cup firmly packed light brown sugar
1/4 cup unsalted butter
2 tablespoons heavy cream
pinch of salt
Instructions
To make the cake!

Preheat oven to 325°F. Generously grease a 10-cup Bundt pan.
Sprinkle the pecans in the bottom of the pan.
Whisk together the flour, baking powder, and salt. Set aside.
Stir together the corn syrup and buttermilk. Set aside.
Using an electric mixer on medium speed, beat the butter and sugar until light and fluffy. Add the eggs, one at a time, mixing well after each addition. Mix in the vanilla.
Reduce mixer speed to low. Add the flour in three portions, alternating with two portions of the buttermilk mixture. Mix just until combined.
Transfer the batter to the prepared pan. Bake for 1 hour, or until a pick inserted into the center comes out with a few moist crumbs.
Cool the cake in the pan for 10 minutes. Then invert the cake onto a wire rack to continue cooling.

To make the glaze!

Place the brown sugar, butter, cream and salt in a small saucepan. Bring to a boil, stirring frequently.
Remove from the heat and allow to cool for a couple of minutes until it has thickened slightly.
Drizzle the glaze over the warm cake.
Allow to cool before cutting.
http://makingmemorieswithyourkids.com/2017/07/pecan-pie-pound-cake/