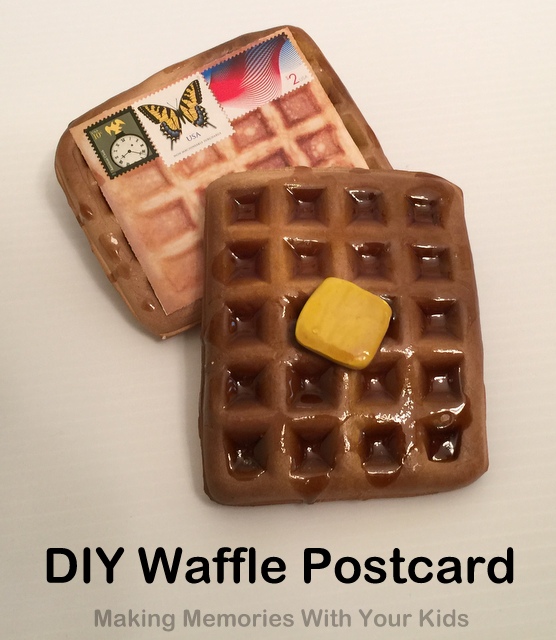 No, that's not our Saturday morning breakfast, it's a postcard.  Yep, a postcard!  But not the flat, semi boring, postcards.  This is like a big, 3D, super cool postcard.  And yes, you mail it just like that.
When we made our Slice of Birthday Cake postcard I knew I wanted to make more fun things to send in the mail.  So we did.  We made Beach Bottles and mailed Easter Eggs.   We even made Ice Cream Sandwich Postcards.   There are so many different ways you can send some love via the USPS.  (Look HERE to see what all we've done.)  
I wish I could see their faces when they open the mailbox and see a waffle in there.  I guess I'll have to settle for the look that the person at the Post Office gave me when I asked to mail it.  Oh man, it was priceless!
These take quite a few days to make because everything needs to dry.  It's so worth it! 
Thank you to SheKnows for this great idea!
What you'll need:
* Waffle Iron (here
)
* White Crayola Model Magic (here
)
* Yellow Crayola Model Magic (here
)
* Light Yellow Spray Paint
* Light Brown Spray Paint
* Brown Food Coloring
* Clear acrylic paint or gloss glaze (found at most hobby and craft stores or here
.)
* Printout of waffle image on card stock (found here)
* Spray glue (here
)
* Contact cement or clear silicon glue (here
)
Take your white foam and form into a rectangle the size of your waffle maker.  Place in your COLD waffle iron.  (Do not plug it in!)  Flatten until it forms a waffle.
Gently remove and trim off excess.  Repeat.
To make the butter: Form the yellow foam into a butter shaped stick.  Slice off pieces and smooth out until it looks like a slice of butter.
Place the waffles and butter on a piece of waxed paper and allow to dry/harden for 3 days.  
After the waffle has dried, spray paint with the brown and yellow spray paint.  Paint both sides and paint in short bursts.  Make it look like a cooked waffle.  Allow to drive for about 4-5 hours.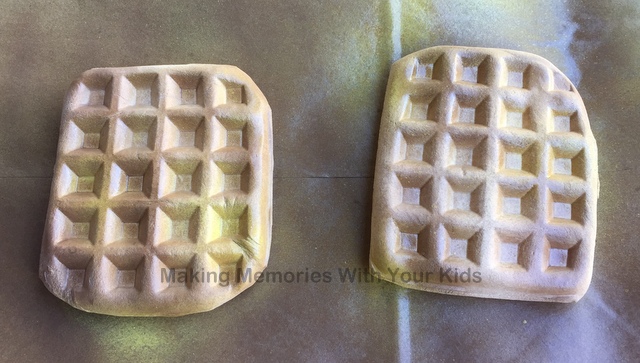 Glue the "butter" to the top of the "waffle".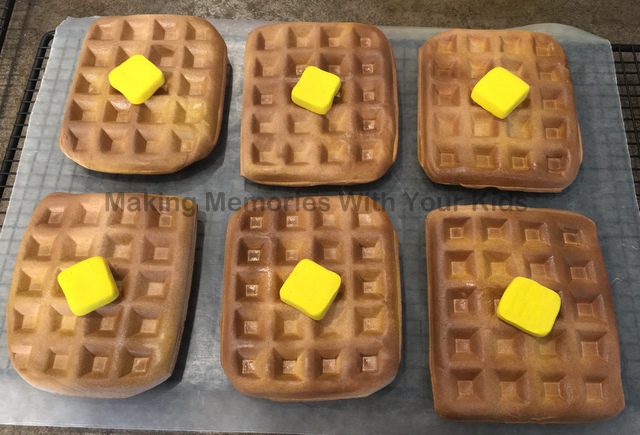 Add a few drops of brown food coloring to your bottle of clear acrylic paint or gloss glaze. Mix well and pour over waffle to desired "syrup" effect. Do this to one side only.  Allow it to dry for two days.
Don't they look so real?!?!?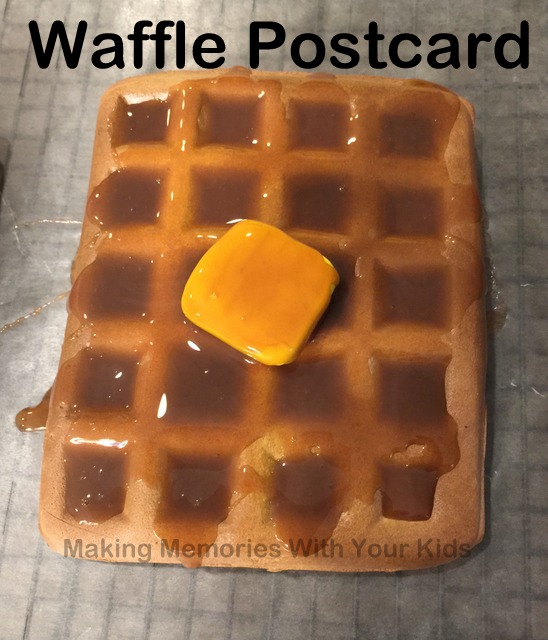 I liked the drip effect (and didn't want them sticking to the waxed paper) so I put the waffles on top of food cans to dry.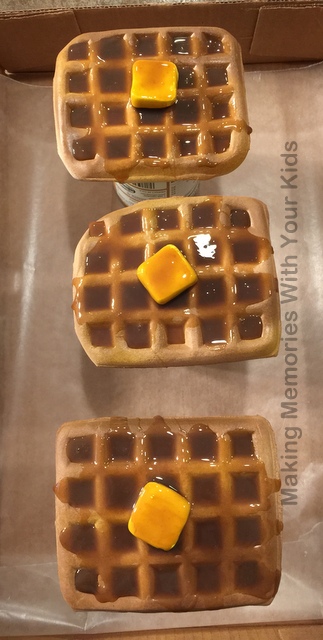 Print out image of waffle on card stock. found here.  It includes four images of waffles, sized 4 x 3-1/2 inches.
Cut out waffle postcard, spray glue on the back side and attach to the finished waffle.
Write your message and address on the postcard side.  Add postage and mail!  Mine were $2.80 to mail.  Not bad for a waffle!
What do you think?  Do you love them as much as I do?