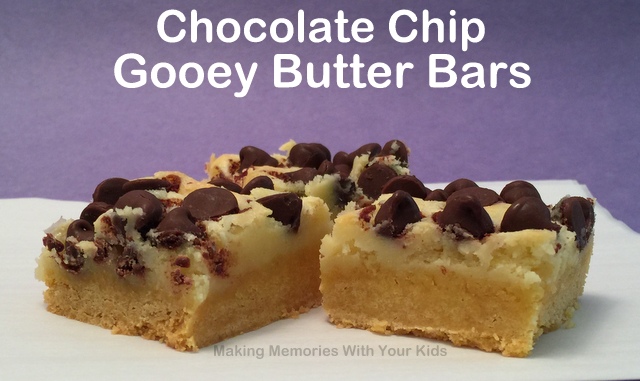 When I was growing up my step-mom was a horrible cook.  I'm not exaggerating at all on this one.  It was pretty bad.  Everything was over cooked or bland.  She did have two things she made that were good – hamburger gravy and what she called "Gooey Bars".  When I went away to college I asked for the recipe for the Gooey Bars.  She wouldn't give it out.  She said it was a secret recipe.
Fast forward twenty years and I stumble upon Paula Deen's recipe for Gooey Butter Cake.  Imagine my surprise when they tasted exactly like what my step-mom used to make.  I should have guessed but back in those days we didn't have Pinterest to search recipes on or even the internet.  Holy smokes!  What did we used to do?!?!
There are a lot of variations you can make with this recipe.  You can make Pumpkin Gooey Butter Bars, which are delicious.  You can make them without the chocolate chips (I added those to the recipe) for Paula's original Butter Bars.  Or, to do it right, you can add the chocolate chips and a bag of Heath Toffee Bits.  That's our favorite but when I looked in my pantry I was out of Toffee Bits.  (Gasp!)
These Gooey Bars are exactly that:  gooey and rich and oh, so delicious.
This is definitely one of those recipes that you need make for an occasion.  Why?  Because if you don't, you'll end up eating them all.
You can find Paula's recipe here.
Paula Deen's Gooey Chocolate Chip Butter Bars
Ingredients
1 (18 1/4 oz) package yellow cake mix
1 egg
1 cup butter, melted, divided
1 (8 oz) package cream cheese, softened
2 eggs
1 teaspoon vanilla
1 (16 oz) box powdered sugar
2 cups milk chocolate chips
Instructions
Preheat oven to 350 degrees.
Combine the cake mix, egg and 1/2 cup butter and mix well with an electric mixer. Pat the mixture into the bottom of a lightly greased 13 by 9-inch baking pan.
In a large bowl, beat the cream cheese until smooth. Add the eggs, vanilla and 1/2 cup butter and beat together.
Add the powdered sugar and mix well.
Spread over cake batter. Sprinkle the chocolate chip evenly over the top.
Bake for 40 to 50 minutes. Make sure not to over bake as the center should be a little gooey.
http://makingmemorieswithyourkids.com/2017/08/paula-deens-gooey-chocolate-chip-butter-bars/