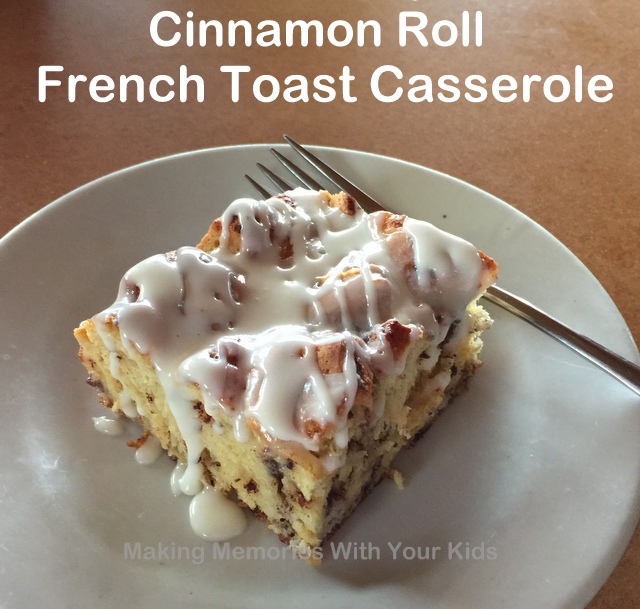 Warm cinnamon rolls in the morning are one of my favorite things.  When they're covered with cream cheese frosting and filled with gooey cinnamon I just can't help myself.  So when I saw this recipe on Lemon Tree Dwelling I instantly saved it.  We had a family beach trip planned and I knew my family would love it.
This recipe is so easy to make.  It has eggs in it, that means it's healthy, right?  Well, that's my logic and I'm stinking to it.
The cinnamon rolls are cut into small pieces and then the egg mixture is poured over the top.  This is one of those recipes that you can tinker with, which I like.  I think the egg mixture could be doubled to make it more of a casserole and less of a cake consistency.  Don't get me wrong, I love that it tasted like a giant casserole.  But I think with more egg mixture it would taste more like cinnamon roll french toast.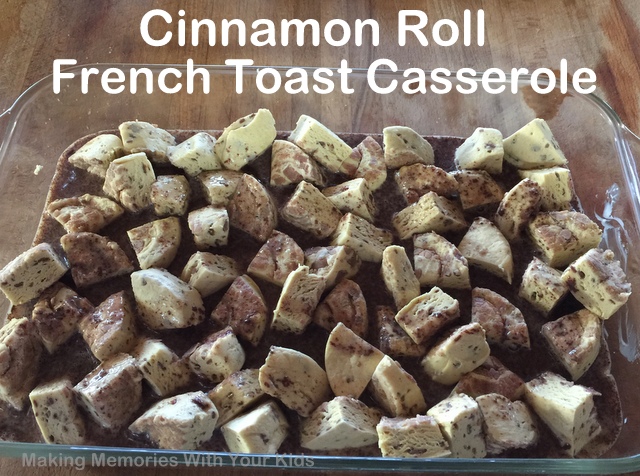 Warning, your house will smell amazing.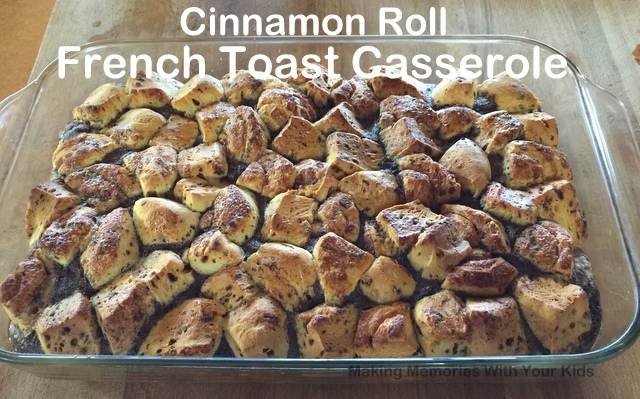 You surely don't have to make extra frosting.  You can just use the frosting that comes with the cinnamon rolls if you only like a small amount of frosting.  Me?  I like a ton of frosting on mine.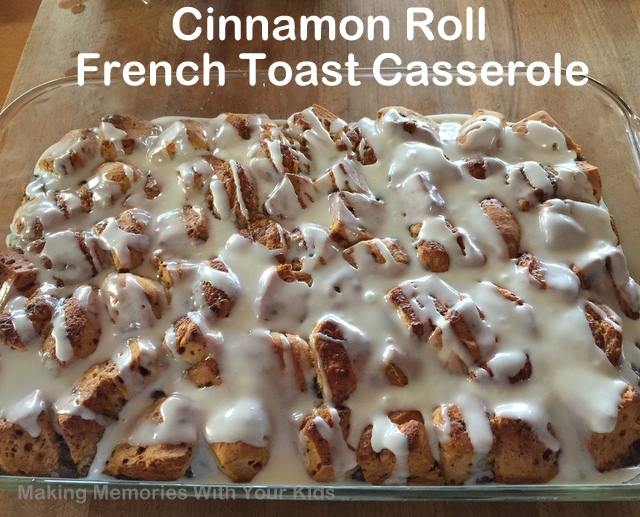 Cinnamon Roll French Toast Casserole
Ingredients
For the Casserole

2 (17.5 oz.) cans refrigerated cinnamon rolls, icing reserved
2 Tbsp. melted butter
4 eggs
1/3 c. milk
1 Tbsp. cinnamon
1 tsp. vanilla

For the Icing

1/2 c. powdered sugar
2 containers reserved icing
2 Tbsp. cream cheese, softened
1 Tbsp. milk
Instructions
Preheat oven to 350 degrees.
Remove cinnamon rolls from packages and cut each roll into sixths.
Drizzle melted butter in 9x13 inch pan.
Spread cinnamon roll pieces evenly in pan.
In a separate bowl, combine eggs, milk, cinnamon, and vanilla. Whisk until combined.
Pour egg mixture over cinnamon rolls.
Bake at 350 degrees for 30-35 minutes or until top of casserole is golden brown and center is set.
Prepare icing by combining reserved cinnamon roll icing with 1/2 c. powdered sugar, 2 Tbsp. softened cream cheese, and 1 Tbsp. milk. Whisk until smooth.
Pour icing evenly over casserole.
Serve warm.
http://makingmemorieswithyourkids.com/2017/09/cinnamon-roll-french-toast-casserole/
Definitely a recipe we'll be making again!