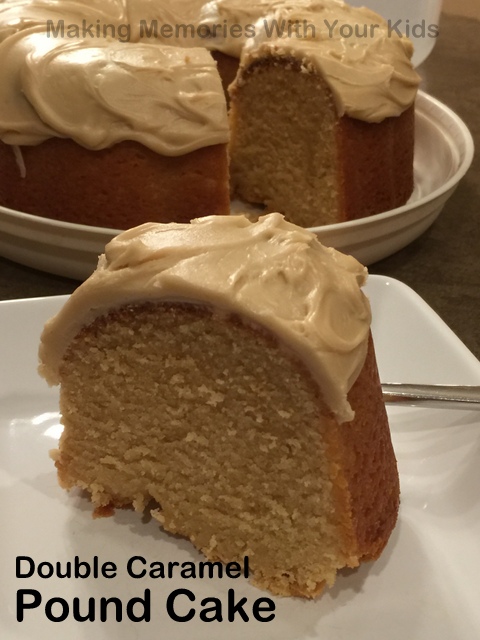 I've made a lot of different kinds of pound cake over the years.  Most have been pretty good.  A few have been amazing and one or two, eh… not so much.  But this recipe for Double Caramel Pound Cake?  Oh my heck!  It's definitely in the amazing category!  The cake is moist and the frosting is delicious.
This recipe, found HERE, is definitely a keeper!
Our frosting looks different than the frosting on the recipe.  There's was a thin frosting that looked like it was poured over the top.  I kind of like the thicker frosting.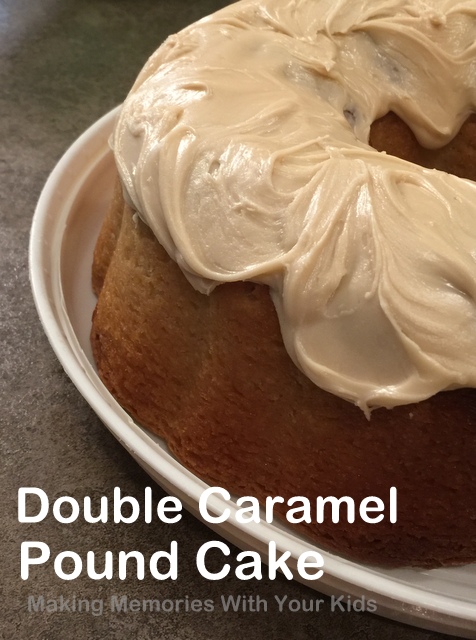 Look how much frosting was left over!  But no fear, we ate it.  =o)  It is that good.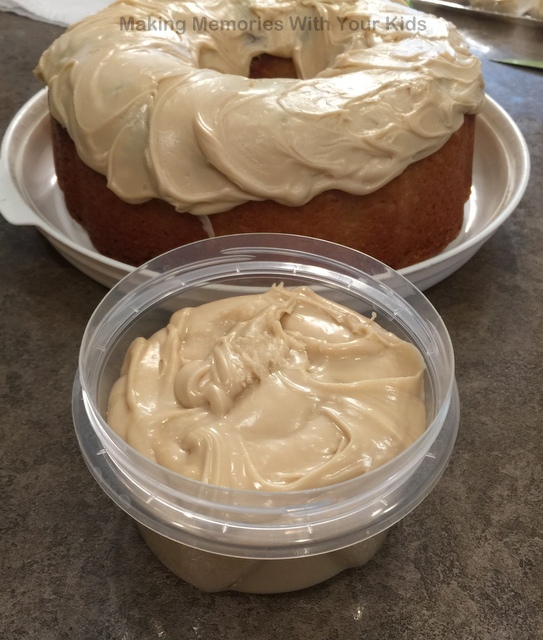 Double Caramel Pound Cake
Ingredients
For the Cake

3 sticks - 1 1/2 cups Butter (at room temperature)
2 cups packed Light Brown Sugar
1 1/2 cups Granulated White Sugar
6 large Eggs (at room temperature)
3 1/2 cups All Purpose Flour
1 tsp Baking Powder
1/2 tsp Salt to taste
1 1/2 cups (at room temperature) Whole Milk

For the Frosting

1 stick Butter
1 cup packed Dark Brown Sugar
1/2 cup Milk or Whipping Cream
1/2 tsp Pure Vanilla Extract
4 cups Confectioners' sugar, sifted
Instructions
To make the cake

Center a rack in the oven and preheat to 325 degrees F.
Grease with butter and dust lightly with flour a 10­inch fluted tube pan, making sure there are no clumps of butter or exposed areas in pan? set aside.
In a separate bowl sift the flour, baking powder and salt and set aside.
In the another large bowl? cream 3 sticks of butter, using a hand mixer or stand mixer at medium speed for 2 minute until creamy and soft.
Add the light brown and white sugar and mix well, stopping to scrape down the bowl now and then with a rubber spatula, until smooth, about 5 minutes.
Reduce speed to medium/­low and add in eggs, one at a time,beating for about 15 seconds after each addition and scraping down the bowl with a spatula as you go, until well blended. (Note : Do not over mix).
Reduce speed to low and add the flour mixture and 1 1/2 cups milk alternately, in 3 batches, beginning and ending with flour. Beat until smooth, about 3 minutes total.
Scrape the batter into the prepared pan and bake in the center of the oven until a wooden skewer inserted in the center comes out clean, about 1 hour and 10 minutes. (Note : Do not overbake).
Remove from oven and let cake cool in the pan on a wire rack for at least 30 minutes. Loosen edges with a small knife, then turn onto rack to let cool completely.

For the frosting

Melt butter in a large heavy saucepan over medium heat.
Add dark brown sugar and whisk constantly until mixture is bubbling and smooth and butter is completely incorporated, about 3 minutes.
Remove from heat and whisk in remaining 1/2 cup milk or whipping cream. Let mixture cool. Stir in the vanilla, then gradually add the confectioners' sugar and stir until well blended and smooth.
Transfer cake to a cake plate and ice with frosting. Let stand for at least 2 hours before slicing.
http://makingmemorieswithyourkids.com/2017/09/double-caramel-pound-cake/