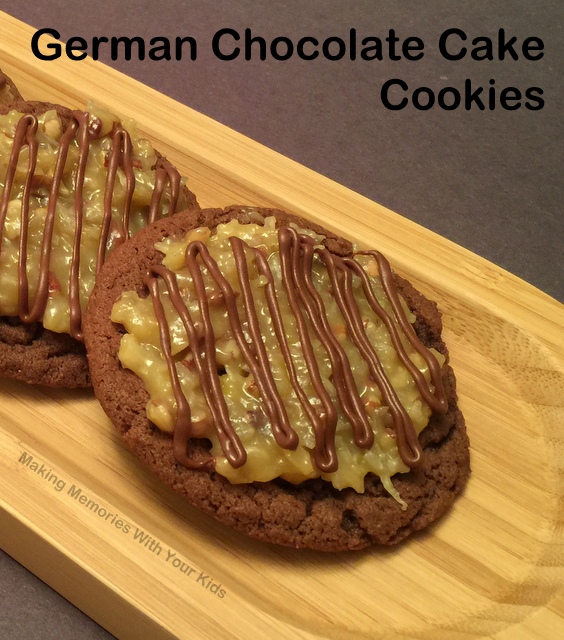 If you haven't noticed yet, I'm not much of a cake maker.  I love cake, don't get me wrong.  But for some reason it's not something I make very often.  (Unless it's pound cake.  That's a whole different ballgame.)  I think it's because I think I'll end up eating it all myself.  And the fact that it's not something easy, like cookies or bars.  When I take a cake in to work I would need to take in a knife, plates and forks too.  Cookies?  Nothing else required.
These German Chocolate Cake Cookies were a huge hit.  If you like German Chocolate Cake you will love these.  I promise!  They have an amazing frosting to cookie ratio (meaning lots of frosting) and the chocolate cookie is so chewy and delicious.
They looked a little "naked" here so they definitely needed a chocolate drizzle.
So much better!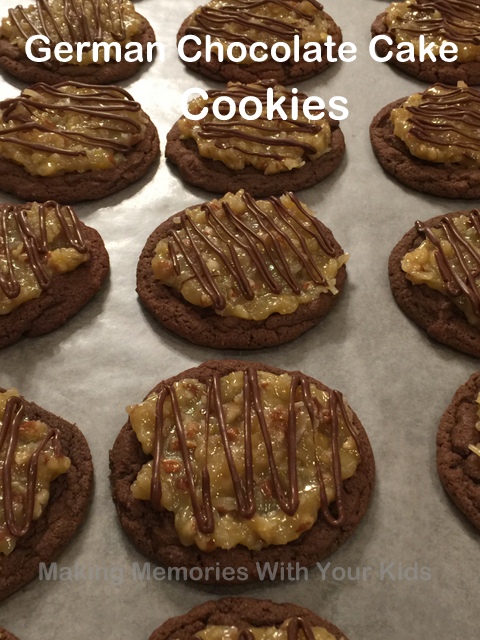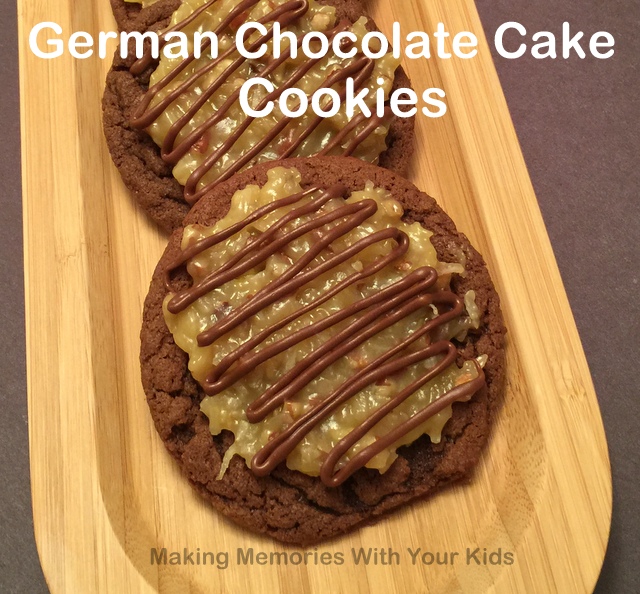 Thank you to A Dash of Sanity for this recipe.
German Chocolate Cake Cookies
Ingredients
Chocolate Cookie

2 sticks butter, softened
1 cup light brown sugar
1 cup granulated sugar
2 teaspoons vanilla extract
2 large eggs, beaten
2 1/4 cups all-purpose flour
1/2 cup unsweetened cocoa powder
1 teaspoon baking soda
Pinch salt

German Chocolate Frosting

1 cup evaporated milk
1 cup sugar
3 egg yolks
1/2 cup butter
1 teaspoon vanilla
1 1/3 cup sweetened shredded coconut
1 cup chopped pecans
Optional: 1/4 cup chocolate candy coating, melted for drizzle
Instructions
Chocolate Cookie

Preheat the oven to 375 degrees F. Line baking sheets with parchment paper.
In a stand mixer or large bowl using a hand mixer, blend the butter, brown sugar, granulated sugar, vanilla and eggs. In a medium bowl, stir together the flour, cocoa, baking soda and salt. Gradually add the flour mixture into the butter mixture and blend until combined.
Drop the dough by tablespoonful onto the prepared baking sheets, 12 cookies per sheet, and bake 8 to 10 minutes. Cool on a baking rack.

German Chocolate Frosting

Add evaporated milk, sugar, egg yolks, butter and vanilla to a large pan and place on stovetop over medium heat.
Stir so that it becomes well combined. Continue stirring until thickened, this takes approximately 11-12 minutes.
Once thickened remove from heat and add coconut and pecans. Beat until thick enough to spread.
Spread frosting over the tops of cooled cookies.
Optional: Drizzle with melted candy coating and let set up.
http://makingmemorieswithyourkids.com/2017/09/german-chocolate-cake-cookies/