Are you a Key Lime Pie person?  I'm sorry to say, I'm not.  I know, don't judge me.  I always believed that a dessert should be pure.  You know, chocolate or peanut butter or caramel – dessert things.  Fruit?  Nope.  Not a dessert ingredient in my book.
That being said, though, I have family members who are huge Key Lime Pie fans.  So for our family trip to the beach this summer I had to make a dessert for those weirdos family members.  I aim to please, for pete's sake.
My family loved these bars!  They said they were a bit tart and a bit sweet and perfectly Key Lime.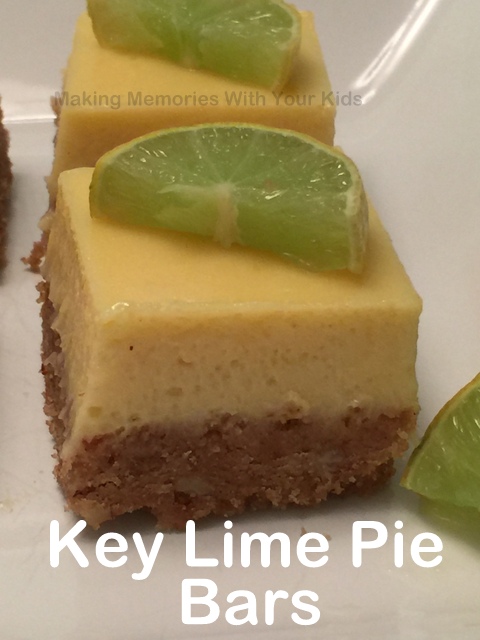 They commented on how good the crust was as well (although it was a little thicker than they would have liked.)  The chopped pecans add a good crunch and flavor to it.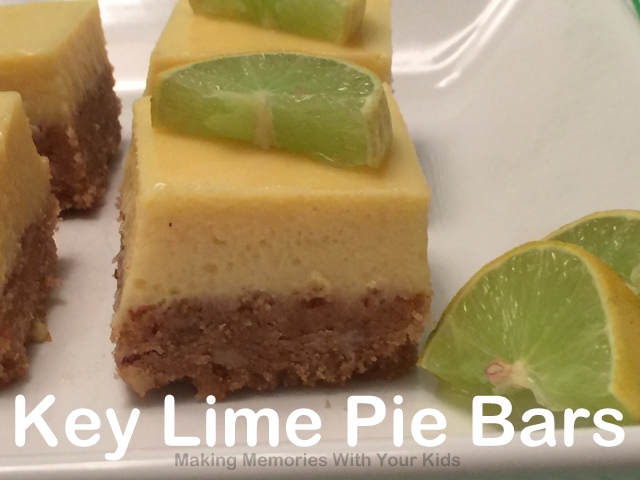 Thank you to Little Spice Jar for this recipe.
Ingredients
12 large graham cracker rectangles
2 tablespoons ground pecans
1/3 cup granulated sugar
1/4 teaspoon cinnamon powder
1 stick (1/2 cup) unsalted butter, melted
3 egg yolks, room temperature
1 can (14 oz) sweetened condensed milk
4 teaspoons lime zest (about 3 limes)
1/2 cup key lime juice (regular limes are fine too)
Instructions
Position a rack in the center of the oven and preheat the oven to 350ºF.
Spray an 8×8 square baking pan with cooking spray and line with parchment paper, set aside.
In a small bowl, stir together the graham cracker crumbs, ground pecans, sugar, and cinnamon. Add the melted butter and stir to combine. Make sure all the crumbs are moistened. Press the crumbs into the bottom of the baking pan and bake for 10 minutes. Remove from oven, leave oven on.
In the bowl of an electric mixer fitted with the whisk attachment, whisk the yolks for 2 minutes. Add the condensed milk and continue to whisk for another 2 minutes. Stop the mixer, scrape down the sides, add the lime zest. With the mixer on low, drizzle in the lime juice, let mixer run for 2 minutes once added. Pie mixture will be slightly thicker when done. Pour the filling into crust and bake for 15 minutes.
Cool completely on rack. Filling will set as it cools. Refrigerate for at least 2 hours. Slice and serve chilled.
http://makingmemorieswithyourkids.com/2017/09/key-lime-pie-bars/