After making our Bubblegum Macarons I had to make another batch with a flavor that wasn't "12 year old girl flavored".  And what better flavor to make than Oreo.  I love Oreos so how could an Oreo Macaron not be delicious.
Macrons are definitely not the easiest cookie to make.  I understand why they are so expensive in the store (if you can find a store that sells them.)  They're delicate so they smush and that's if you can get them to turn out in the first place.  We threw out a few batches that didn't turn out.  The trick is getting the "feet" on them.  The feet are the ruffles on the edges.
I'm pretty sure I could have eaten this entire batch.  Definitely a keeper and I can't wait to make them again (and again and again.)
Sift your dry ingredients together.  You don't want any pebbles or chunks in there.  It'll mess with the texture.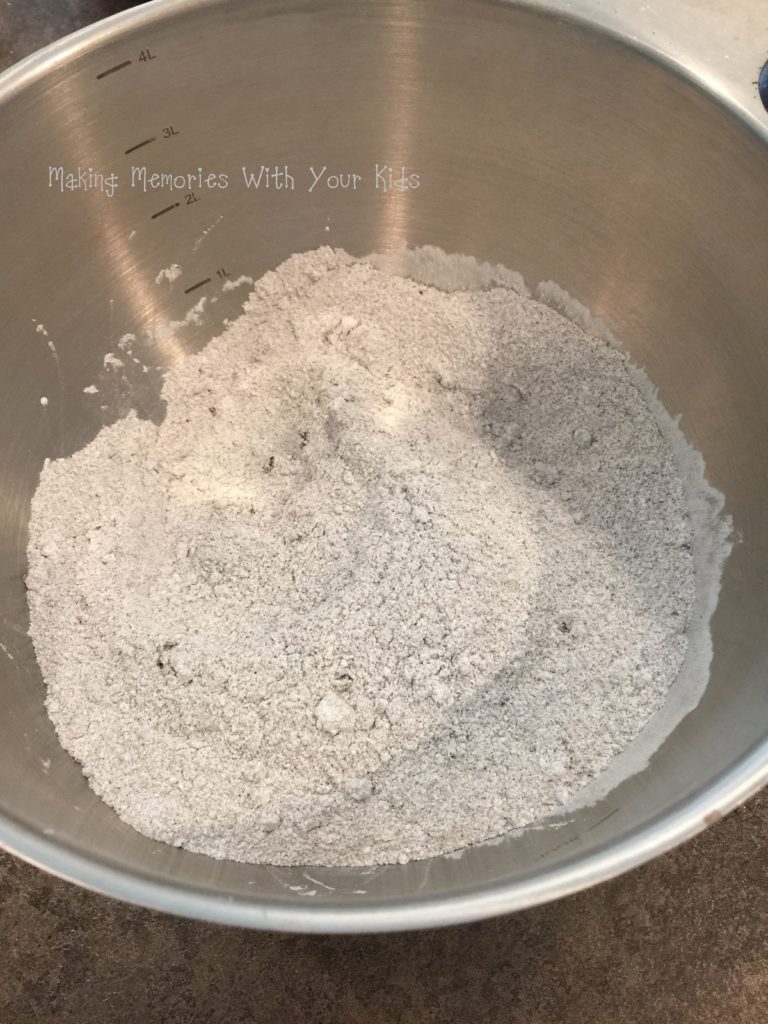 Pipe them out onto a silpat or parchment lined pan and let sit for about 30 minutes.  This step is important!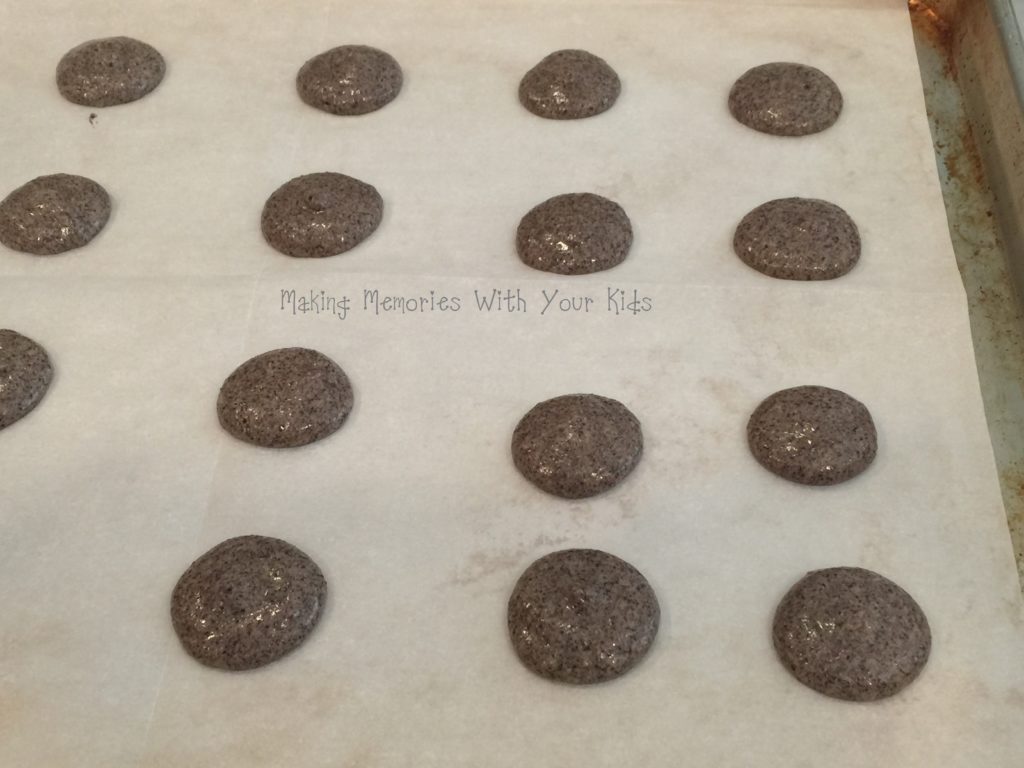 After they bake, don't they look delicious?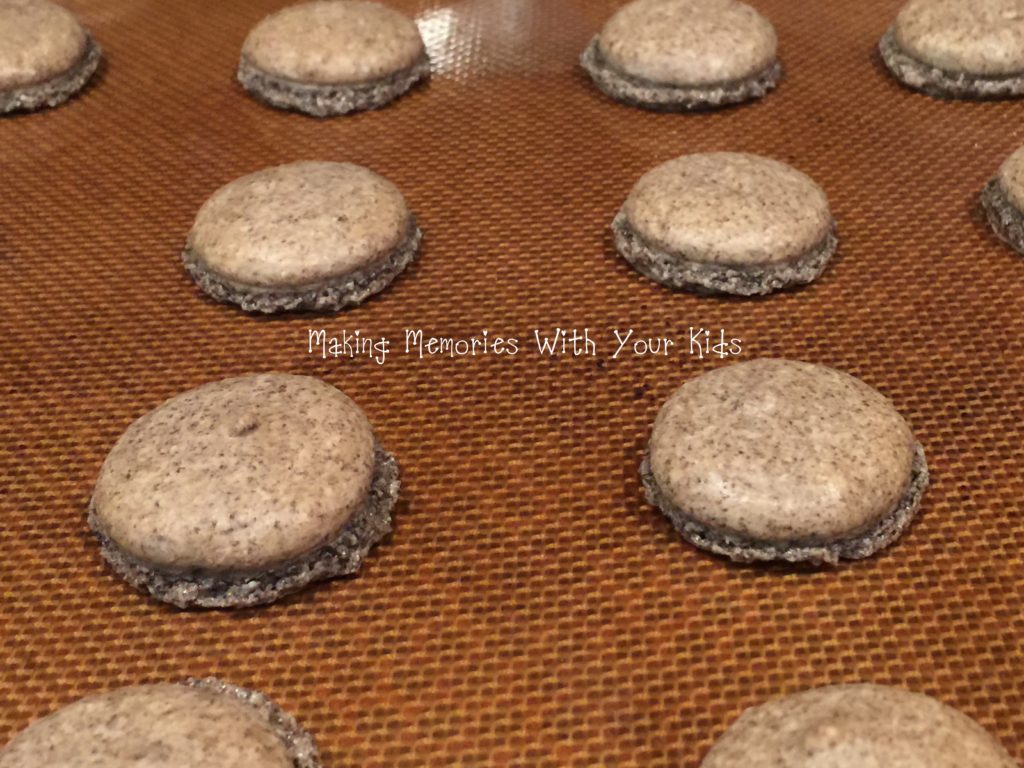 Add frosting and there you have it… Oreo Macrons.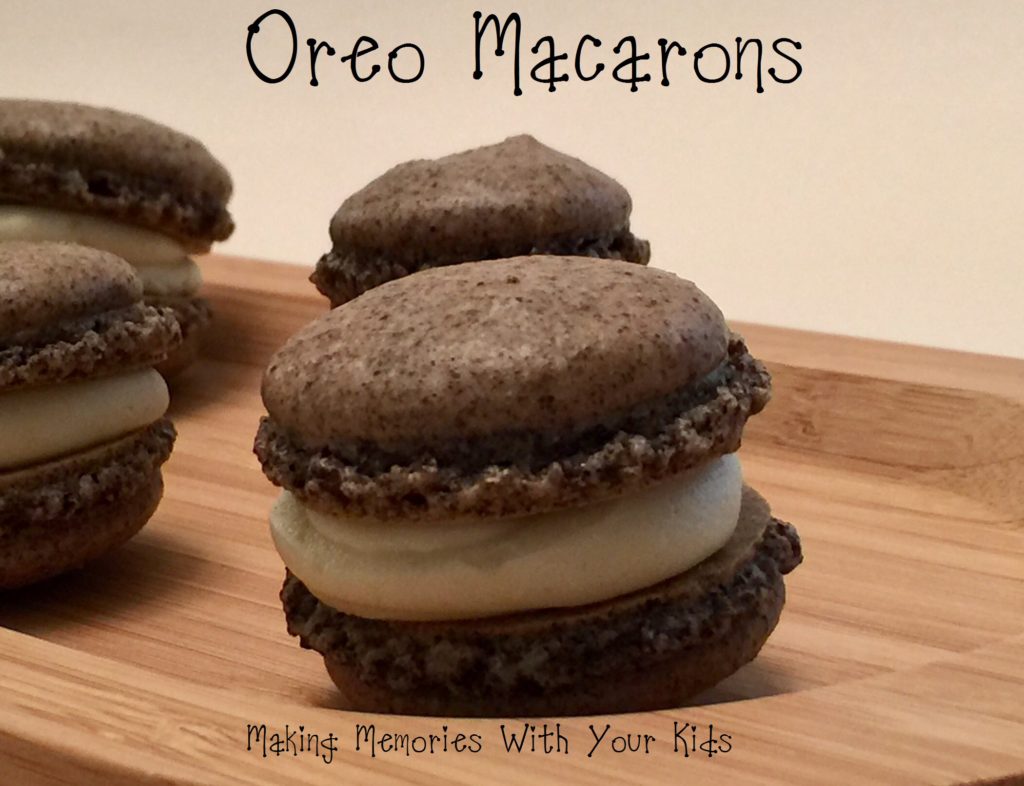 We used The Domestic Rebel's recipe which was a definite keeper!  They are delicious!
Ingredients
2 1/3 cups powdered sugar
3 1/2 oz. almond meal
3 1/2 oz. Oreo Cookies, filling scraped out and reserved and cookie pieces pulverized into a fine crumb (about 12-15 Oreo Cookies)
4 egg whites
1/3 cup white sugar

FOR FILLING

Reserved Oreo Cookie filling (from about 12-15 Oreo Cookies)
1 stick butter, softened
2 tsp. vanilla extract
+/- 1 1/2 cups powdered sugar
Instructions
Measure out all of your ingredients and set aside.
Separate the Oreos and pulverize the cookies in a food processor. Set aside the filling.
Place a large handheld sifter over a separate bowl and begin sifting the almond flour, powdered sugar and oreo crumbs together until blended and sifted.
If you have harder "pebbles" leftover, either push them through the sifter with your spatula, or remove them to re-pulse through your food processor, then try resifting them. If there's a teaspoon or less of the harder "pebbles", you may discard. Set sifted ingredients aside.
Using the whisk attachment, begin whipping the egg whites and sugar on HIGH for about 5-7 minutes or until stiff, glossy peaks form.
Remove the whisk attachment and gently stir in HALF of the sifted mixture. Do not fully stir this mixture in; just fold it in maybe 4 or so times and then add the rest. Turn your wrist clockwise around the bowl, folding the mixture around and in on itself to incorporate the dry, sifted ingredients. The mixture should look like a little thick and chunky when it's done. If you draw an invisible line through the mixture with your spatula, the line should disappear within the mixture in a couple of seconds.
Line two baking sheets with parchment paper, making the parchment the same dimensions as your baking sheets. You may use silicone macaron mats if you have them. Do not grease the mats, the parchment, or the sheets.
Scoop the macaron mixture into a large disposable piping bag affixed with a large open-circle tip (I used Atecco 807). Hold the bag straight down and gently squeeze to release the batter, counting to four. Flick your wrist to stop the flow. This should translate to a macaron roughly the size of an American quarter. Repeat with remaining macarons. Macarons may have slight lumps on top; either use a lightly wet finger to gently pat it down, or follow the recipe accordingly. Once macarons are all piped on, gently tap each sheet a couple of times on the counter to release air bubbles and help those lumps fall. Allow the macarons to sit on the counter for 20 minutes prior to baking. During this time, preheat your oven 275* degrees F.
Bake the macarons for approx. 12-14 minutes, rotating pans halfway through baking time to ensure even baking. Remove the macarons gently and allow them to cool on the baking sheets. Macarons should come right up or peel off with little resistance.

To make the filling

in the clean stand mixer bowl, beat together the butter, vanilla and Oreo Cookie filling with the paddle attachment for about 1 minute or until creamy. Beat in the powdered sugar until a soft yet thick and spreadable mixture has formed. Place the mixture in a piping bag attached with a smaller open circle tip and pipe onto the flat surface of a cooled macaron; sandwich with a remaining macaron top.
Serve immediately. Macarons are best the same day or the next day. To store macarons, gently place them in a large airtight container and place them in on the counter. You may also cover them airtight and place them in the fridge, but allow them to come to room temperature completely before eating.
http://makingmemorieswithyourkids.com/2017/10/oreo-macarons/