This recipe has a lot of different names.  The one that I see the most is Christmas Crack.  The definitely an odd name but it makes sense after you try this "candy".  You won't want to stop eating it.  It's deliciously addictive!  In a good way, not a bad way.
This is a fantastic "candy" to make for your Christmas cookie tray.  It's easy to make, stays fresh, and tastes wonderful.  It'll be the favorite, for sure.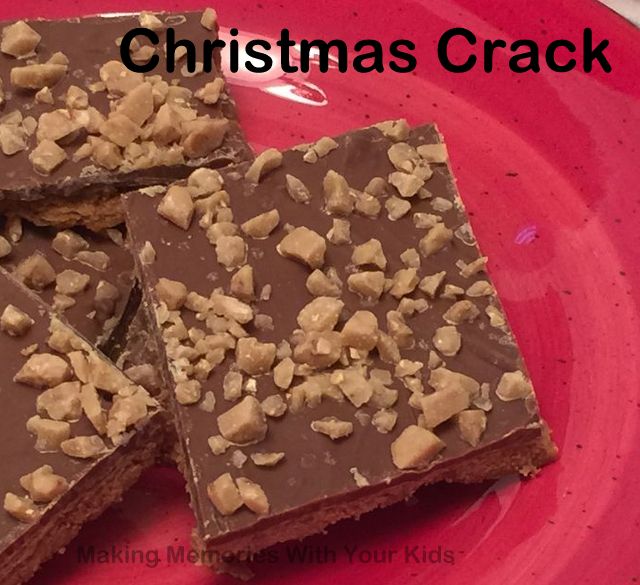 Line your cookie sheet with graham crackers.
Make your sugar mixture and pour over the crackers.
Bake to perfection.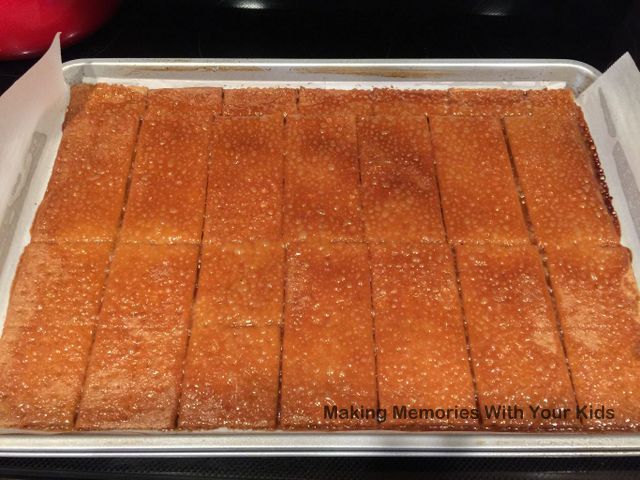 And now for the bonus deliciousness – melted chocolate chips and Heath Toffee Bits.  Don't they look amazing?!?!
I got the recipe off of my Mom's blog, Wives With Knives.
Chocolate, Caramel and Graham Cracker Toffee AKA: Christmas Crack
Ingredients
12 - 4 3/4 by 2 1/2 inch graham crackers
3/4 cup unsalted butter, cut into chunks
1/2 cup light brown sugar
dash salt
1 1/2 cups chocolate chips
1 cup Heath Toffee Bits
Instructions
Preheat oven to 375 degrees. Line a 15 x 10 inch baking sheet with parchment paper, leaving a 2 inch overhand at each end. Line the pan with the graham crackers.
Melt butter in a medium size saucepan over low heat, then add brown sugar. Combine well and cook for 1 minute. Pour over the graham crackers, spreading evenly, and bake on the middle oven rack until golden brown and bubbly, 8-10 minutes.
Sprinkle chocolate chips (you could use butterscotch if you prefer) evenly over the crackers and return to the over for a minute until the chocolate is soft. Remove pan from the oven and, with an offset spatula, gently spread chocolate evenly over the crackers. Sprinkle the chocolate with the toffee bits and allow the crackers to cool for about 30 minutes before cutting into squares.
Store in an airtight container.
http://makingmemorieswithyourkids.com/2017/12/chocolate-caramel-and-graham-cracker-toffee-aka-christmas-crack/