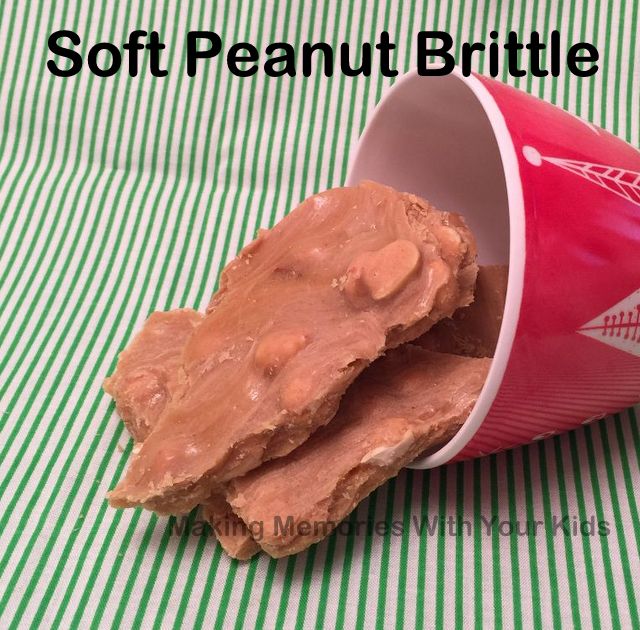 I go through baking phases.  I'll get on a kick where all I want to make is brownies – lots and lots of brownies.  Then it'll switch over to cookies and I make all sorts of different cookie recipes.  Right now I'm in my candy making phase.  I want to make candy (and eat it!)  But the great thing about candy, it lasts longer than cookies or brownies.  Well, I don't know about that but what I mean is, it has a longer shelf life.
A lot of my friends are intimidated by making candy.  It's really not that difficult.  The trick?  A candy thermometer.  When a recipe says to heat the mixture to a certain degree you really have to be exact.  Otherwise, your fudge will be too soft or your candy will taste burnt.  So if you don't have a good candy thermometer, go buy one.  You won't regret it.
I love the taste of Peanut Brittle but I don't love the teeth breaking hardness of the candy.  I'm always afraid that I'm going to crack a tooth!  Well, look no further.  This Soft Peanut Brittle recipe is the answer.  It's peanuty and delicious and soft.  Yep, soft!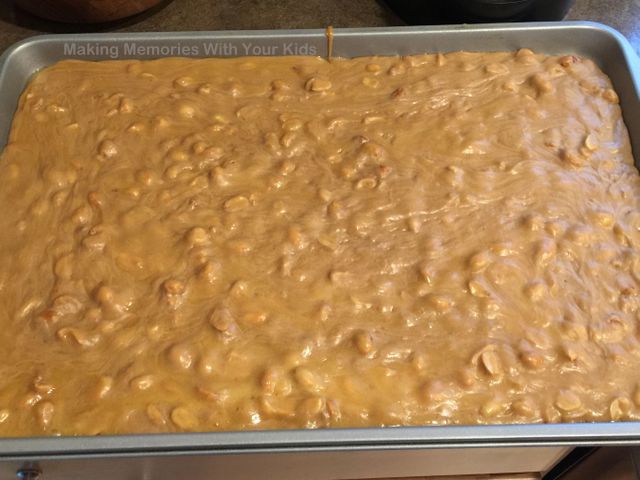 If you don't believe me, I encourage you to make this recipe.  You'll be amazed and hooked.  It's that delicious!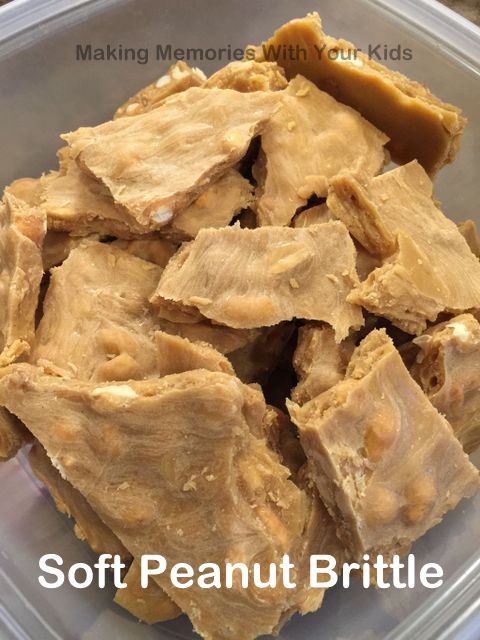 Thank goodness my Mom blogged this recipe on her blog, Wives with Knives.
Ingredients
2 cups creamy peanut butter
1 1/2 cups granulated sugar
1 1/2 cups light corn syrup
1/4 cup water plus 2 teaspoons, divided
2 tablespoons butter
2 cups peanuts, raw or roasted
1 teaspoon baking soda
1 teaspoon vanilla
Instructions
Generously butter a large baking sheet. Set aside.
In a double boiler over hot water heat peanut butter until melted. Meanwhile prepare syrup in a large saucepan by combining sugar, corn syrup and ¼ cup water. Cook over high heat to 275 degrees on a candy thermometer. Lower heat to medium, add butter and stir until melted. Add peanuts, cook, stirring for about 5 minutes until candy starts to turn brown and reaches 300 degrees.
Remove from heat. Stir in baking soda that has been dissolved in remaining 2 teaspoons water. Add vanilla.
Working quickly, fold in warm peanut butter, stirring gently. At once pour candy mixture onto prepared cookie sheet. Quickly spread as thin as possible. The key here is to work quickly.
When candy is cold break into serving size pieces.
Store in an airtight container.
http://makingmemorieswithyourkids.com/2017/12/soft-peanut-brittle/