Chips and Dips are one of my weaknesses.  They are comfort food to me and if I let myself, I could eat them everyday for lunch or dinner.  I don't, of course.  That would be crazy.  But sometimes I wish I could.
A co-worker brought this delicious dip to one of our potlucks and I knew it was going to go into my "must have" recipe file.  It's that good!!!
I apologize for my pictures.  We had a work day at work (no students that day) so I grabbed all of the ingredients and brought it all to school.  I threw everything in the crockpot and had it warm up right there in my office.  Needless to say, my office smelled amazing!
Serve with corn chips and enjoy!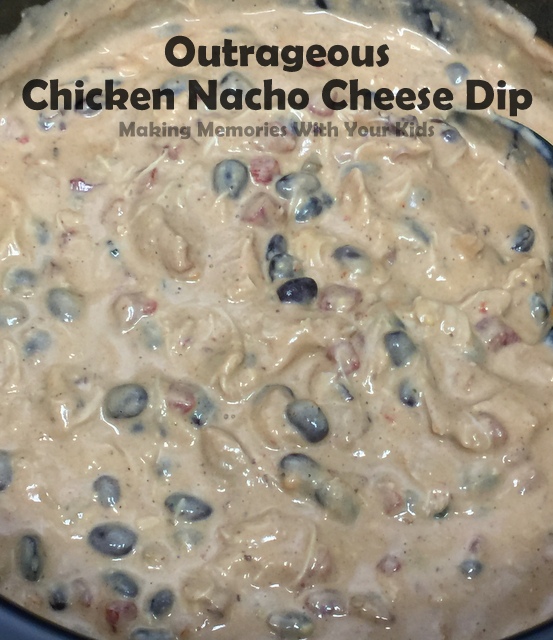 She found the recipe on Allrecipes.
Outrageous Chicken Nacho Cheese Dip
Ingredients
1 (14 ounce) can diced tomatoes with green chile peppers, drained
1 (1 pound) loaf processed cheese food (such as Velveeta®), cubed
2 large cooked skinless, boneless chicken breast halves, shredded
1/3 cup sour cream
1/4 cup diced green onion
1 1/2 tablespoons taco seasoning mix
2 tablespoons minced jalapeno pepper, or to taste (optional)
1 cup black beans, rinsed and drained
Instructions
Place the diced tomatoes, processed cheese, chicken meat, sour cream, green onion, taco seasoning, and jalapeno pepper into a slow cooker.
Cook on High, stirring occasionally until the cheese has melted and the dip is hot, 1 to 2 hours.
Stir in the black beans, and cook 15 more minutes to reheat.
Serve with tortilla chips.
http://makingmemorieswithyourkids.com/2018/02/outrageous-chicken-nacho-cheese-dip/