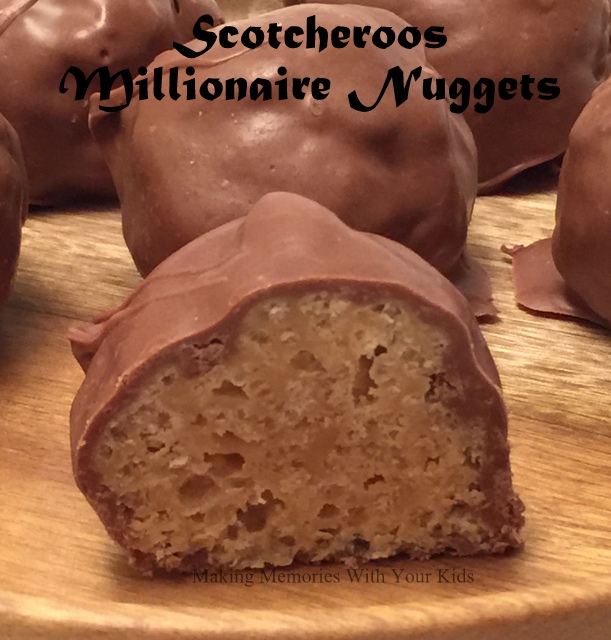 Chocolate, peanut butter and butterscotch makes this dessert one of our favorites!
This recipe is similar to the Chex Scotcharoos we made a while back.  We decided to use crispy cereal rather than Chex cereal and we dipped them in the chocolate mixture.  (You can never have too much chocolate.  Am I right?!)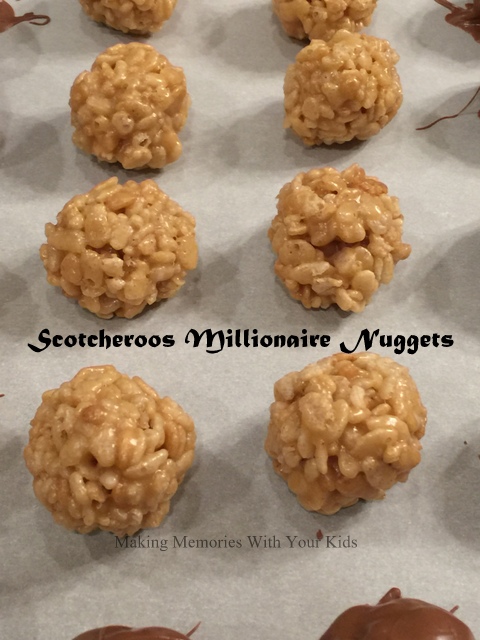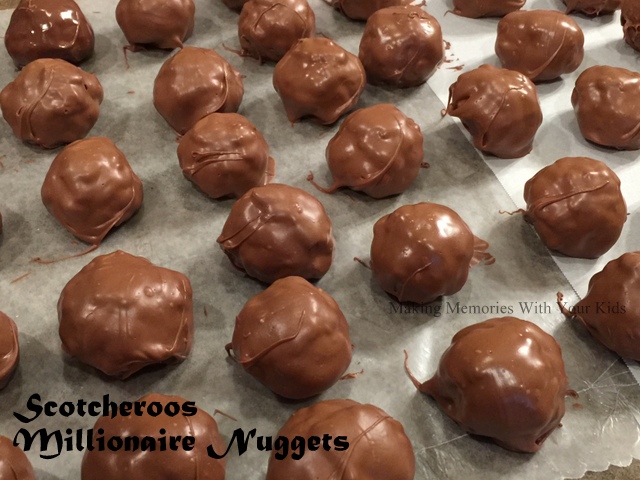 We found this recipe over on Oh Sweet Basil.
Scotcheroos Millionaire Nuggets
Ingredients
1 Cup Corn Syrup (Light Karo Syrup)
1 Cup Sugar
1 Cup Peanut Butter
5 1/2 Cups Krispy Rice Cereal
6 ounces Milk Chocolate Chips
6 ounces Butterscotch Chips
Instructions
In a saucepan over medium heat, pour in the karo syrup and sugar. Allow to cook, stirring occasionally until clear and the sugar is totally dissolved. Remove from heat. Add the peanut butter and stir until smooth.
In a large bowl, add the cereal and pour the peanut butter mix in. Gently fold to combine and set aside to cool for 5-10 minutes.
Lay wax or parchment paper on a cookie sheet and begin rolling the cereal into balls. Set on the cookie sheet to cool entirely.
Meanwhile, in a glass measuring cup or bowl, melt the chocolate and butterscotch until smooth.
One at a time, drop the balls into the chocolate, and using a fork, roll it around to coat it and then lift it out, tapping the sides gently to allow excess chocolate to run off. Place on the cookie sheet and store in a cool place to allow the chocolate to harden. Store in air tight containers.
http://makingmemorieswithyourkids.com/2018/02/scotcheroos-millionaire-nuggets/
These are my daughter's favorite dessert now.  She could eat them everyday if we had them.  But she eats them too quickly and they disappear.