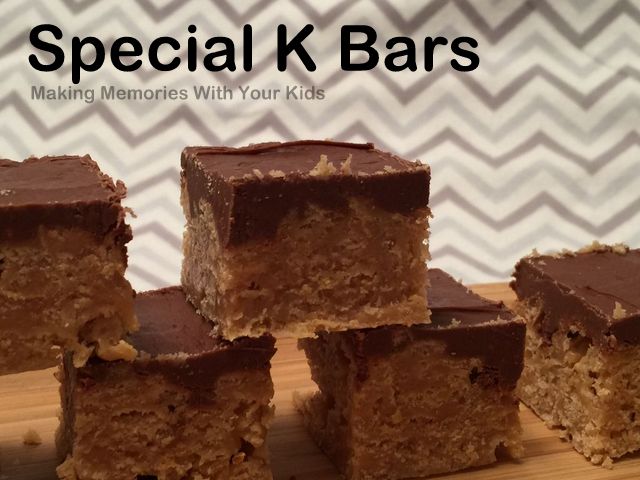 Show of hands… who's ready for Christmas?  I don't mean ready, ready.  I mean ready for the fun to begin?  I am!  I love, love, love Christmas time.  But before we get to Christmas we have to have Thanksgiving.  I don't really love this holiday.  I love the time.  My kids and I go to the beach with my dad and step-mom and have an absolute blast!  But the holiday?  Nope.  Give me a delicious French Dip Sandwich and I'm good.
I bring treats to the beach.  Surprised?  You shouldn't be.  I bring treats everywhere.  It's my thing.  One of the treats we decided to make were these Special K Bars.  They are very similar to our Chex Scotcharoos we made (and devoured!)  These have a different cereal and we made them in bar form.
They are delicious!  The crunchy, gooey, peanut butter layer with the cereal?  I could eat a lot of it, just like that.  But then add the butterscotch chips and chocolate chips?  Holy moly!  I seriously have to keep them away from me.  They are to die for!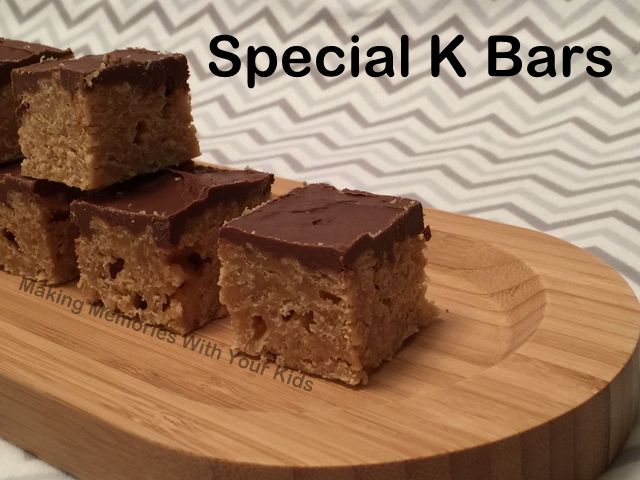 Look at that!  Looks peanut buttery and crunchy and yummy.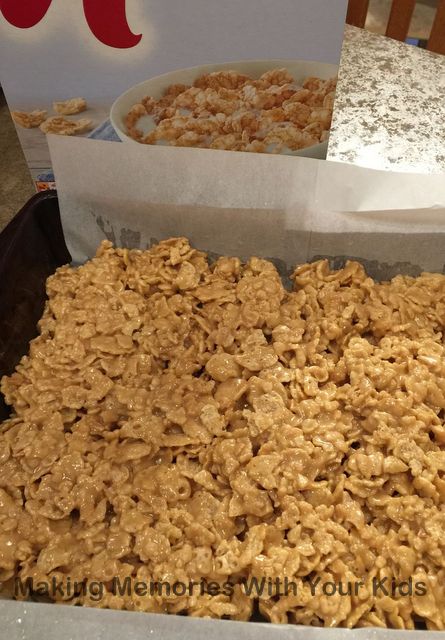 But all the chocolate, butterscotch layer and I'm hooked.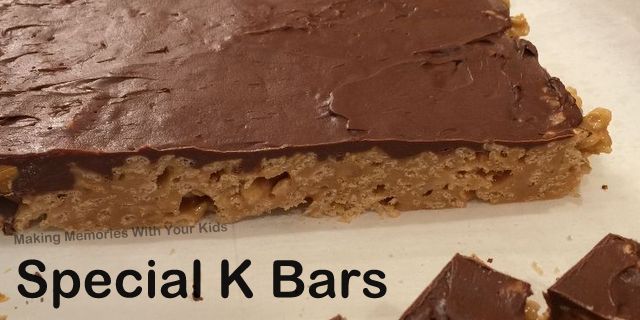 I found this recipe over on Make Life Lovely.  Definitely a recipe that I'm going to keep.  The only thing I would do differently?  I would double the chocolate and butterscotch chips that go on the top.  It needed more of that delicious layer.
Ingredients
1 cup sugar
1 cup corn syrup
1 cup peanut butter
6 cups Kelloggs Special K cereal
6 oz. chocolate chips (I would use the whole bag)
6 oz. butterscotch chips (I would use the whole bag)
Instructions
Stir the sugar and corn syrup together in a pot until the mixture boils. Remove from heat.
Stir in the peanut butter, and then the Special K cereal. Mix thoroughly.
Pour mixture into a 9×13 pan, and press down on the mixture.
Melt the chocolate and butterscotch chips together on low heat in a small pan. Pour onto the cereal bars and smooth with a knife.
Put in the fridge to cool, and then cut into bars.
http://makingmemorieswithyourkids.com/2018/11/special-k-bars/