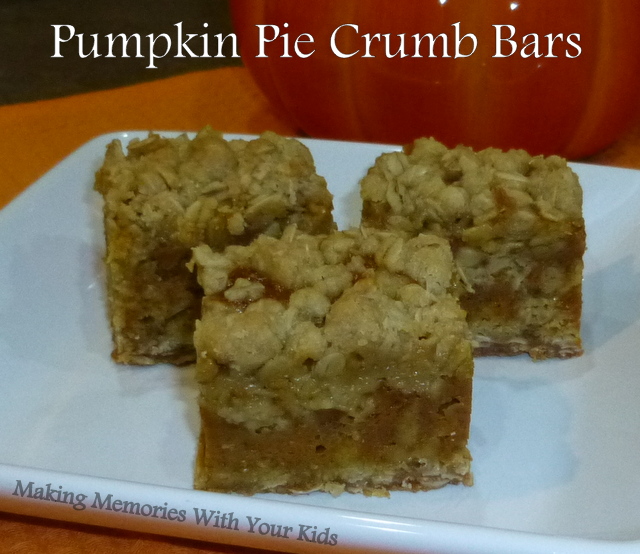 These are similar to our Blackberry Oatmeal Bars we made awhile back.  (Which were awesome, by the way.)  That recipe called for a cake mix, which makes it so darn simple.  But sometimes I like making a recipe from scratch and not from a mix, so this recipe is perfect.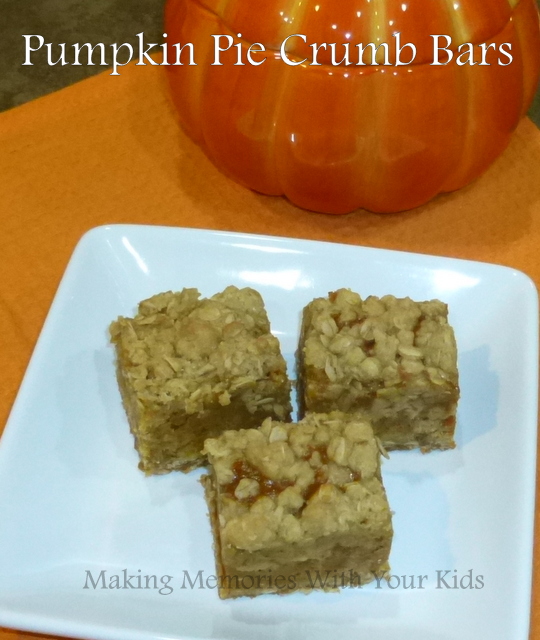 These bars are a delicious oatmeal cookie with a thick layer of pumpkin pie in the middle.  Yep, you read that right – pumpkin pie!  Inside a cookie!  Yep. Look how delicious they look.
I just love my Perfect Brownie Pan.  It makes such perfect brownies and bars.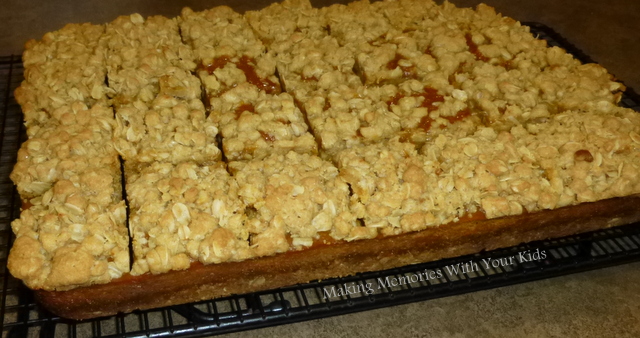 Thank you to Flavors by Four for this recipe!
Ingredients
For the Crumb Layers

2-1/2 cups all purpose flour
3 cups quick oats
1 tsp. salt
1 tsp. baking soda
3/4 cup granulated sugar
1-1/4 cup brown sugar
1-1/2 cups melted unsalted butter
2 tsp. vanilla

For the Pumpkin Pie Filling

1/2 cup granulated sugar
1/2 cup brown sugar
2 tsp. cinnamon
1 tsp. nutmeg
1/4 tsp. ginger
3 large eggs
1 egg yolk
1 tsp. vanilla
2-1/2 cups canned pumpkin puree (1 28 oz. can)
2/3 cup evaporated milk
Instructions
Preheat oven to 350 degrees.
Spray a 9x13 pan with non-stick cooking spray and set aside.
In a mixing bowl, whisk together the flour, oats, salt and baking soda. Add in sugar and brown sugar and mix well. Combine melted butter and vanilla and add to mix. Stir until combined.
Gently press half of the mixture into the prepared pan and bake for 15 minutes.
In a mixing bowl whisk together the sugar, brown sugar, cinnamon, nutmeg, and ginger. Add in eggs, egg yolk and vanilla and mix. Add in pumpkin puree and milk. Mix well. Pour mixture over baked bottom and return to the oven to bake for 15 more minutes.
Remove from the oven and crumble the rest of the crumb mixture over pumpkin layer and bake for another 20-25 minutes until top is lightly browned and center is still a little giggly.
Allow to cool for 1 hour at room temperature and then 1 hour in the fridge.
Top with whipped cream if you would like.
http://makingmemorieswithyourkids.com/2013/10/pumpkin-pie-crumb-bars/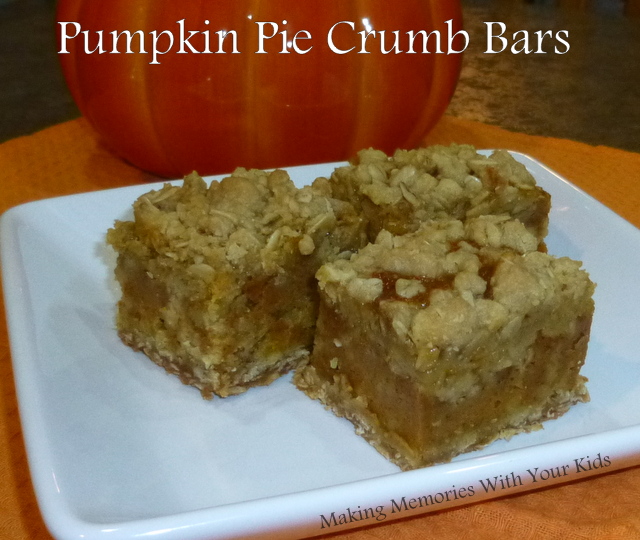 If you are a pumpkin pie lover, these bars are for you.  My family and co-workers LOVED them.  Perfect for Fall.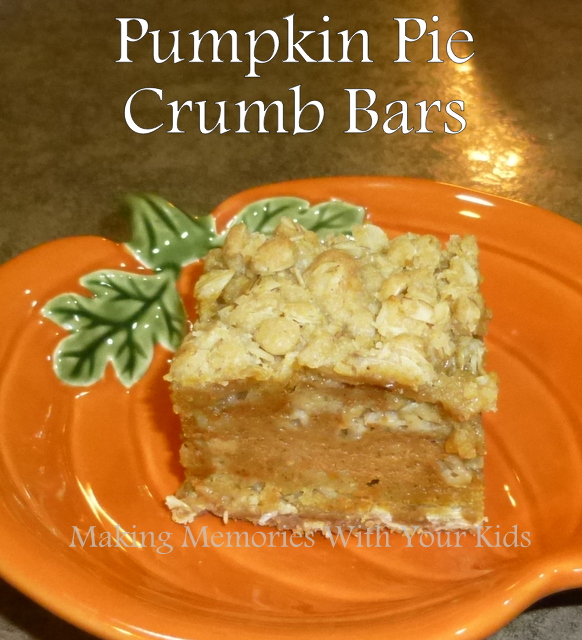 We're linking to the parties located HERE.