Just hearing the word s'mores makes you think of summer, right?  It does for us.  And it also means it's S'more Blizzard time at Dairy Queen.  My kids love them and ask to go there a lot.  Unfortunately, I'm a tight wad and won't take them there very often.  So what do we do?  We try to recreate them, of course.
My Mom over at Wives with Knives posted a Copycat Dairy Queen Vanilla Ice Cream Recipe a couple of years ago so we started there.  Seems reasonable, right?
We made the ice cream.
Then chopped up a bunch of s'mores goodness.  (Yum!)
We carefully folded in the graham crackers, chocolate and marshmallow crème because we didn't want it to look pulverized.  We wanted chunks of graham cracker in there and swirls of marshmallow crème.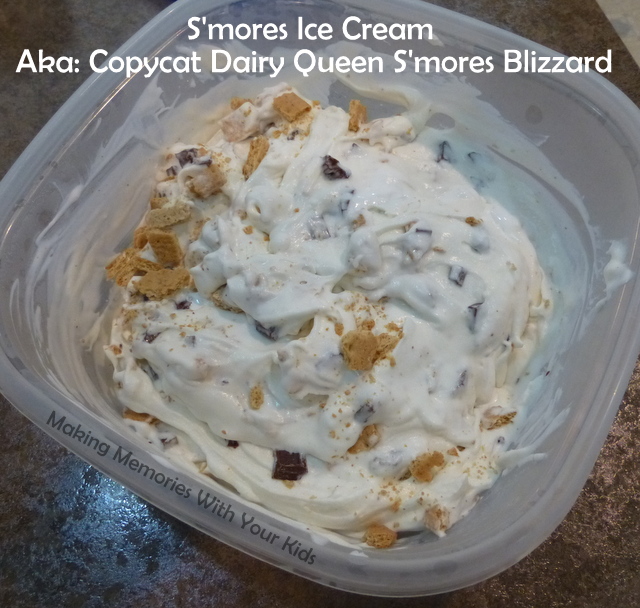 Put it back into the freezer for a couple of hours to harden and there you go.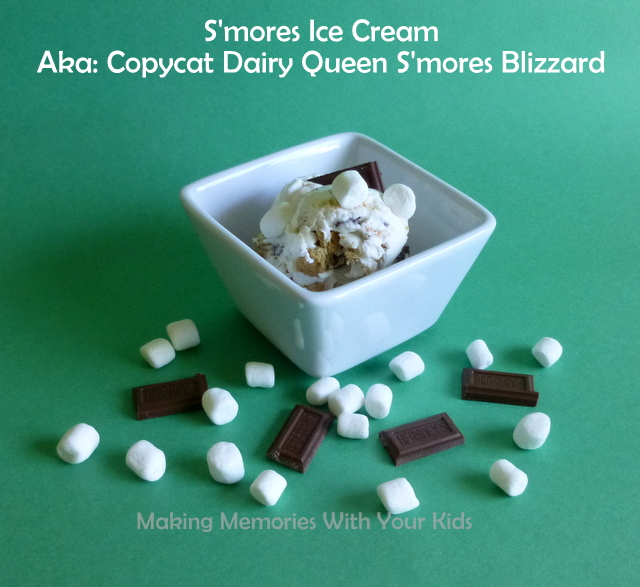 S'mores Ice Cream (AKA: Copycat Dairy Queen S'mores Blizzard)
S'mores Ice Cream (Aka: Copycat Dairy Queen S'mores Blizzard)
Ingredients
2 envelopes Knox gelatin
½ cup cold water
4 cups whole milk
2 cups sugar
2 teaspoons vanilla extract (I used ½ vanilla bean and 1 teaspoon vanilla extract)
½ teaspoon salt
3 cups whipping cream
1/2 cup marshmallow crème (plus or minus)
3 Hershey chocolate bars (plus or minus)
6 full sheets of graham crackers (plus or minus)
Instructions
Soak gelatin in cold water
Heat milk, but do not boil.
Remove from heat and add gelatin, sugar, vanilla and salt.
Cool and add cream.
Chill 5 to 8 hours (or overnight)
It will be pretty gelatinous (like pudding).
Scoop half of the recipe into a 4 to 6 quart ice cream freezer can. Put the other half back into the refrigerator.
Process according to manufacturer's directions.
Meanwhile, chop the Hershey chocolate bars and graham crackers. You can make them as big or small as you would like. We like chunks of graham crackers in ours so we didn't crush them.
Scoop into a container.
Gently fold in the marshmallow crème, chopped Hershey bars and chopped graham crackers.
Cover well, and freeze several hours or overnight.
http://makingmemorieswithyourkids.com/2014/08/smores-ice-cream-aka-copycat-dairy-queen-smores-blizzard/
The ice cream is delicious, even without all the yumminess we added.  It's rich and creamy and smooth – just like Dairy Queen soft serve.  My kids LOVED it!
Enjoy!
Are you looking for other delicious S'more recipes?  How about our:
S'mores Cheesecake Campfire Cones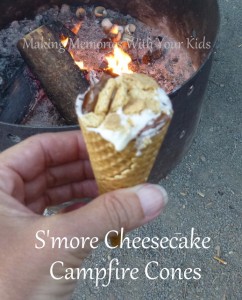 Peanut Butter S'more Granola Energy Bites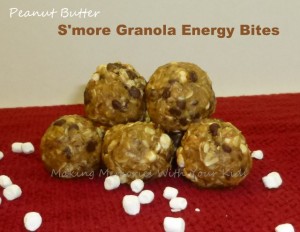 Mini S'mores Hand Pies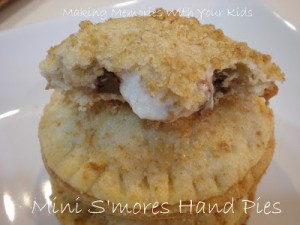 (I guess we do like s'mores!)